UHF RFID Tag has read/write range of 300 ft.
Press Release Summary: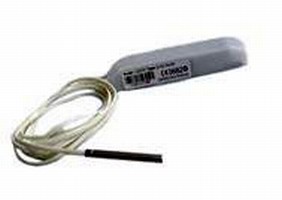 Allowing automated identification, tracking and tracing of assets or people without human intervention, UHF Long-Range Tag (GAO 137003) has expandable memory of 32,000 bytes to store user and process information as well as temperature data. It features LED for visual recognition, internal sensor for temperature monitoring, and 6 yr battery lifetime. Product also facilitates 100 tag/sec identification rate, while 2,000 tags can be identified simultaneously.
---
Original Press Release:

GAO Introduces UHF Long-Range Active RFID Tag



Toronto, Canada - GAO RFID Inc. (www.GAORFID.com) introduces an active UHF Long-Range Tag (GAO 137003). This well-performing, active RFID tag has an expandable memory of 32,000 bytes for massive information storage, an LED for visual recognition, and an internal sensor for temperature monitoring. It enables users to collect highly accurate, real-time data for identification, tracking and tracing, and localization.
This reader conveys data via progressive UHF radio frequency technology at a distance of up to 100 feet from a handheld device or up to 300 feet from a fixed interrogator. UHF operating frequencies allow low-power and long-range communication for efficient operation. Its outstanding anti-collision multi-tag-handling algorithm provides clear communication to a large number of tags for tracking of assets or people. This series is compatible with GAO's UHF RFID Interrogator PC Card model #227001, #227002, and UHF RFID Reader model # 217003.

GAO's active UHF Tag (GAO 137003) provides the following features:
o The 100-meters (300 feet) read/write range allows automated identification, tracking and tracing of assets or people without human intervention.
o It has a memory of 32,000-byte to store user and process information as well as temperature data onto the tag to provide real-time tracking and tracing.
o The 100-tag/s identification rate provides reliable identification of fast-moving objects
o 2,000 tags can be identified virtually simultaneously.
o The UHF operating frequencies allow low-power, long-range communication and high-rate data transmission with minimal interference due to local conditions.
o The 6-year lifetime of battery enables it to deliver long-time maintenance-free operation.

For more information on the product, please contact sales@GAORFID.com, or visit (http://www.gaorfid.com/index.php?main_page=product_info&products_id=781)

About GAO RFID Inc.
o GAO RFID Inc. is a leading provider of Radio Frequency Identification (RFID) hardware and solutions to end users worldwide. GAO RFID combines best of breed with low cost RFID readers, RFID tags and enabling-RFID software. We have a wide variety of RFID readers, tags and antennas in all the RFID technologies, Low Frequency (LF), High Frequency (HF), Ultra High Frequency (UHF, Gen 2) as well as Active and Semi-Passive. GAO RFID's products and services are easily customized for use in Asset Tracking, Health care, Supply Chain & Logistics, Event Management, Access Control, Livestock Tracking, Inventory Control & Management, Field Service, Maintenance and Document Authentication.
o For more information please visit www.GAORFID.com

GAO RFID Inc. is a member of GAO Group, which also includes:
o GAO RFID Inc.: www.GAORFID.com
o GAO Tek Inc.: www.GAOTek.com
o GAO Research Inc.: www.GAOResearch.com
o WowGao Inc.: www.WowGao.com
o GAO RFID Asset Tracking Inc. : www.GAORFIDAssetTracking.com
o GAO Embedded Inc.: www.GAOEmbedded.com
o GAO Instruments Inc.: www.GAOInstruments.com
o GAO Comm Inc.: www.GAOComm.com
o GAO Fiber Optics Inc.: www.GAOFiberOptics.com

Contact information
sales@GAORFID.com
Tel: 416-292-0038, ext 601

More from Optics & Photonics