UHF RFID Reader/Writer has handheld, portable design.
Press Release Summary: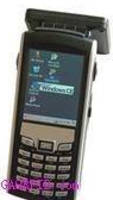 Designed for commercial use, 902 MHz Gen 2 Portable Handheld RFID Reader/Writer (GAO 246001) is supplied as PDA-style unit that supports multi-protocol as well as multi-detection capabilities. Waterproof and dustproof unit, capable of 0-3 m read distances and 0-1.5 m write distances, has 320 x 240 pixel QVGA display with backlit, 256-color, TFT-LCD touch screen. It runs on 12 Vdc, 1.5 A, 4,400 mAh Li-ion battery and covers 902-928 MHz range with SSFH technology.
---
Original Press Release:

GAO Launches Its 902MHz (UHF) RFID Gen 2 Portable Reader/Writer



GAO Launches Its 902MHz (UHF) RFID Gen 2 Portable Reader/Writer Toronto, Canada - GAO RFID Inc. (www.GAORFID.com) recommends its 902MHz Gen 2 Portable Handheld RFID Reader/Writer (GAO 246001). This well-designed RFID Reader/Writer is a multi-protocol device designed for commercial use. The compact PDA style unit, running the latest Windows Mobile OS, can be successfully deployed for field service as well as warehousing, supply-chain and retail POS inventory control.

GAO's optimized UHF 902MHz Gen 2 RFID Reader/Writer is both waterproof and dustproof, it maintains high-quality performance even in harsh environments.

Specifications of GAO's UHF 902MHz Gen 2 Portable Handheld Reader/Writer:
o Display: 240W X 320L pixel QVGA with backlight 256 colors TFT-LCD Touch Screen
o Power requirements: 12V DC, 1.5A 4400mAh Li-ion battery
o Communications Method: USB, IrDA1.1, RS232, TTL
o Frequency: 902MHz to 928MHz spread spectrum frequency hopping.
o Read Write Distance: Read 0m to 3m, write 0m to 1.5m
o Technical Certificates: RoHS, CE, FCC, ISO/IEC 18000-6B, EPC Class 1, EPC Gen2
o Dimensions (mm): 175 x 76 x 33 (L x W x H) excluding reader module
o Waterproof and dustproof: IP55
o Operating Temperature: -20°C to 50°C
o Storage Temperature: -30°C to 70°C
o Multi-Detection: Yes

For more information about this 902MHz Gen 2 Portable Handheld RFID Reader Writer, please visit www.GAORFID.com or contact sales@GAORFID.com.

About GAO RFID Inc.
GAO RFID Inc. is a leading provider of Radio Frequency Identification (RFID) hardware and solutions to end users worldwide. GAO RFID combines best of breed with low cost RFID readers, RFID tags and enabling-RFID software. We have a wide variety of RFID readers, tags and antennas in all the RFID technologies, Low Frequency (LF), High Frequency (HF), Ultra High Frequency (UHF, Gen 2) as well as Active and Semi-Passive. GAO RFID's products and services are easily customized for use in Asset Tracking, Health care, Supply Chain & Logistics, Event Management, Access Control, Livestock Tracking, Inventory Control & Management, Field Service, Maintenance and Document Authentication.

For more information please visit www.GAORFID.com

GAO RFID Inc. is a member of GAO Group, which also includes:
GAO RFID Inc.: www.GAORFID.com
GAO Tek Inc.: www.GAOTek.com
GAO Research Inc.: www.GAOResearch.com
WowGao Inc.: www.WowGao.com
GAO RFID Asset Tracking Inc.: www.GAORFIDAssetTracking.com
GAO Embedded Inc.: www.GAOEmbedded.com
GAO Instruments Inc.: www.GAOInstruments.com
GAO Comm Inc.: www.GAOComm.com
GAO Fiber Optics Inc.: www.GAOFiberOptics.com

More from Machinery & Machining Tools