UHF Long Range RFID Tag uses beacon technology.
Press Release Summary: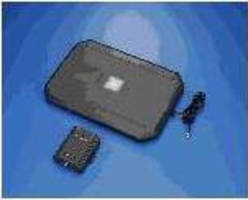 Providing read-range of 100 m for identification and tracking, GAO137001 is suited for tracking mobile assets, controlling access or online inventory, and localization of assets or personnel in designated areas. Static data are written to tags, which are then transmitted at programmable intervals without requiring request from reader. Delivering long-term maintenance-free operation, tag offers ultra-low power consumption and configurable ping rate.
---
Original Press Release:

Long-Distance Beaconing RFID Tag from GAO



02/03/2009

Toronto, Canada -GAO RFID Inc. (www.GAORFID.com) announces an innovative beaconing RFID tag (GAO137001), which employs active UHF technology. This cost-effective long range RFID tag is appropriate for tracking mobile assets, controlling access or online inventory, and localization of assets or personnel in designated areas. It offers outstanding long-range capabilities for wireless applications.

This active UHF beaconing RFID tag sends data to a mobile (handheld) or fixed reader (interrogator) at distances of up to 300 feet (100 meters). Static data are written to the tags which are then transmitter at programmable intervals without requiring a request from the reader. Its ultra-low power consumption and configurable ping rate enable it to work effectively for many years without maintenance.

GAO's active UHF Beaconing RFID Tag provides the following features:

o Allows the longest read-range of 100-meter for identification and tracking using beacon technology
o Long battery lifetime facilitated by the configurable ping rate
o Delivers long-term maintenance-free operation, without battery replacements
o Available for both standard North American and European ISM band frequencies
o Non-line-of-sight data transmission allowing tags to be identified without the need of visual contact
o Automatic transmission: Tags do not have to be "woken" - they transmit automatically
o Industrial housing enabling it to be durable in demanding environments
o Customizable ping rate ensuring that the frequency band is not busy
o Economical choice for tracking assets with active RFID technology

For more information about GAO's active UHF beacon tag, please visit www.GAORFID.com or contact sales@GAORFID.com

About GAO RFID Inc.

GAO RFID Inc. is a leading provider of Radio Frequency Identification (RFID) hardware and solutions to end users worldwide. GAO RFID combines best of breed with low cost RFID readers, RFID tags and enabling-RFID software. GAO offers a wide variety of RFID readers, tags and antennas in all the RFID technologies, Low Frequency (LF), High Frequency (HF), Ultra High Frequency (UHF, Gen 2) as well as Active and Semi-Passive. GAO RFID's products and services are easily customized for use in asset tracking, healthcare, supply chain & logistics, event management, access control, livestock tracking, inventory control & management, field service maintenance and document authentication.

For more information please visit www.GAORFID.com

GAO RFID Inc. is a member of GAO Group, which also includes

o GAO Tek Inc.- www.GAOTek.com
o GAO Research Inc. - www.GAOResearch.com
o GAO RFID Asset Tracking - www.GAORFIDAssetTracking.com
o GAO Embedded - www.GAOEmbedded.com
o GAO Instruments - www.GAOInstruments.com
o GAO Comm - www.GAOComm.com
o GAO Fiber Optics - www.GAOFiberOptics.com

Company Name: GAO RFID Inc.
Address 1: 601 Milner Avenue, Third Floor Toronto, Ontario,Canada
City: Toronto
State: OR
Zip: M1B 2K4
Country: canada
Phone: 416-292-0038
URL: www.GAORFID.com

More from Architectural & Civil Engineering Products