UBVL UpBlast Roof Ventilator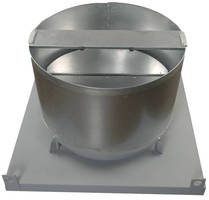 Continental Fan's UBVL Upblast Roof Ventilators provide superior performance in a low silhouette design. With capacities to 44,000 cfm, these rugged ventilators are constructed with a heavy duty welded steel base, galvanized butterfly exhaust damper section and a spark resistant cast aluminum airfoil axial impeller. 



UBVL belt drive upblast roof ventilators have a v-belt drive for quiet, low speed operation. They are ideal for exhausting hot or contaminated air streams, including smoke fumes, and are suitable for general ventilation applications.

 

Continental Fan provides unique fan designs that are quiet, efficient and performance driven. 



FEATURES BENEFITS

• Low silhouette weatherproof closure for vertical air discharge

• V-belt drive for low speed operation

• Spark resistant, cast aluminum airfoil axial impeller

• Factory set adjustable pitch blades

• Aerodynamically efficient performance

• TEFC industrial duty motor

• Self-aligning pillow block ball bearings

• Weather-tight steel curb panel

• Heavy duty welded steel construction

• Air dried enamel paint finish

• Rugged galvanized damper section with butterfly damper blades

• Damper rods turn in nylon bearings and require no lubrication

• Diameters from 24" to 60"



The UBVL Upblast Roof Ventilator, a better AIRFLOW solution from:



CONTINENTAL FAN……… better AIRFLOW by DESIGN™



For more information contact Ken Grimes, or visit us on the web to view our full line of Roof Ventilators.







More from Software