U.S. Air Force Ready to Launch Third Advanced Extremely High Frequency Satellite Built by Lockheed Martin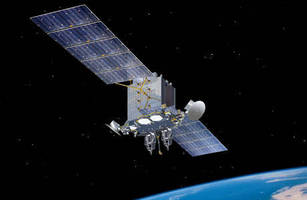 CAPE CANAVERAL AIR FORCE STATION, Fla. – The U.S. Air Force's third Advanced Extremely High Frequency (AEHF) military communications satellite, designed and built by a Lockheed Martin [NYSE: LMT] team, is ready to launch aboard a United Launch Alliance Atlas V rocket from Cape Canaveral Air Force Station, Fla. Launch is set for Sept. 18 with a two-hour launch window opening at 3:04 a.m. EDT.



The AEHF system provides vastly improved global, survivable, highly secure, protected communications for strategic command and tactical warfighters operating on ground, sea and air platforms. The system also serves international partners including Canada, the Netherlands and the United Kingdom. Canada was the first of these nations to connect to AEHF during tests with multiple terminals, and Lockheed Martin announced last week that the Netherlands is now using the system.



"Thanks to a focused government-industry team, the third AEHF satellite is ready to launch," said Mark Calassa, vice president of Protected Communication Systems at Lockheed Martin. "We've increased affordability while maintaining a focus on mission success. Our AEHF-1 and -2 satellites are delivering improved capability during on-orbit testing, having already connected three allies and 10 terminal types. From suppliers to engineers to launch operators, we are committed to our customer and this mission."



A single AEHF satellite provides greater total capacity than the entire legacy five-satellite Milstar constellation. Individual user data rates will increase five-fold, permitting transmission of tactical military communications, such as real-time video, battlefield maps and targeting data. In addition to its tactical mission, AEHF provides the critical survivable, protected and endurable communications links to national leaders, including presidential conferencing in all levels of conflict.



Lockheed Martin is under contract to deliver six AEHF satellites and the Mission Control Segment. AEHF-1 and AEHF-2 are on orbit, and AEHF-4 through -6 are progressing on schedule. All satellites are assembled at the company's Sunnyvale, Calif., facility.



Headquartered in Bethesda, Md., Lockheed Martin is a global security and aerospace company that employs about 116,000 people worldwide and is principally engaged in the research, design, development, manufacture, integration, and sustainment of advanced technology systems, products, and services. The Corporation's net sales for 2012 were $47.2 billion.



Live launch broadcast and webcast details for Sept. 18, 2013 (all times Eastern Daylight Time):

BARS AND TONE - 2:14 A.M.

PROGRAM START - 2:44 A.M.

LAUNCH WINDOW - 3:04 - 5:04 A.M.



Transmission FOR digital HIGH definiton



SATELLITE: SES 2

TRANSPONDER: 21

BAND: C-Band Digital

ORBITAL POSITION: 87 degrees west

CARRIER: SES Americom

HD BANDWIDTH: 18 MHz (half transponder 'AB')

DOWNLINK FREQ: 4111 MHz (Horizontal)

UPLINK FREQ: 6336 MHz (Vertical)

SYMBOL RATE: 13

FEC: 3/4

DATA RATE: 17.9705

DVBS-QPSK

MPEG-2

AUDIO EMBEDDED



WEB CAST AVAILABLE HERE http://www.ulalaunch.com/site/pages/Multimedia_Webcast.shtml



Media Contact:

Mark Lewis

Mobile: 408-203-8093

mark.e.lewis@lmco.com



Chip Eschenfelder

Mobile: 315-427-5720

chip.eschenfelder@lmco.com



SOURCE Lockheed Martin



Web Site: http://www.lockheedmartin.com.

More from Material Handling & Storage