Type 317 Scribe Marking Unit is the world's first portable marker.
Press Release Summary: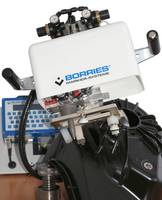 Featuring low-wear scribe stylus made of synthetic diamond or carbide, Type 317 Scribe Marking Unit is equipped with controller for data input through PC, barcode scanner, PLC or integrated keypad. Providing 120 x 25 mm marking area and built-in X-out functionality, unit comes with interchangeable optional fixtures to adopt any vehicle geometry. Measuring 6 kg in weight, product reduces noise emission to 74 dB.
---
Original Press Release:
Borries Presents World's First Portable, Hand-Held Scribe Marking Unit Type 317
The Borries 317 is the industry's first marker developed specifically as a portable unit capable of scribing on sheet metal and other hard surfaces. It is ideally suited for VIN markings according to the international standards of the automotive industry in terms of marking depth and font-norm in a low volume or pilot production environment.
The new marker is highly ergonomic and has a low noise emission, typically 74 dB(A), due to an implemented stylus "soft touch" function.
Being a lightweight of 6 kg (without controller, pneumatic and chuck), the unit sets new standards. It offers a large marking area of 120 x 25 mm for second line marking and built in X-out functionality at its small dimensions.
The Model 317 features a high-strength, low-wear scribe stylus made of synthetic diamond or carbide. Like all other Borries marking units it provides a robust design, ease of integration and adaptation to the model-specific marking positions by quick-change chucks in a standardized uptake, and has a drive with a powerful, highly dynamic stepper motors.
Via quick interchangeable, optional fixtures it is possible to adopt to virtually any vehicle geometry. The compact controller provides extensive opportunities for data input via PC, barcode scanner, PLC or the integrated keypad. By this keypad, the easy creation and selection of the model-dependent imprinting orders is provided.
Borries Marking Systems products have a worldwide reputation for highly engineered designs and strong quality. The machines are precision engineered and produced in Germany, with local sales & technical support in the USA. The company offers a variety of marking systems, including laser markers, scribe and dot pin markers, in addition to traditional impact and roll marking machines. The programmable scribe and dot pin units offer high speed, high precision stepper motor drives, allowing for reduced marking cycle times and exceptional marking quality.
For more information, contact
Holger Markgraf
Sales & Marketing
Borries Marking Systems,
3744 Plaza Drive, Suite 1C,
Ann Arbor, MI 48108.
Telephone (734) 761-9549;
Email: info@borriesusa.com
http://borries.com/en/borriesusa.html