Type 3 Rail Mount CNG Fuel System features aluminum cylinder.
Press Release Summary: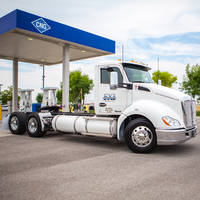 Type 3 Rail Mount Compressed Natural Gas Fuel System comes with truck OEM factory-installed brackets. Unit's cylinder is certified to NGV2 and FMVSS 304. Product is suitable for diesel trucks and is designed to increase payload. Fuel system's truck OEM factory installed steps provide standard driver ingress and egress and 27 in. width off of the frame rail. Device reduces likelihood of clipping objects on turns.
---
Original Press Release:
Worthington Industries Introduces Type 3 Rail Mount CNG Fuel System
Worthington Industries, Inc. (NYSE: WOR) today announced a new product addition to its alternative fuel systems business, a Type 3 Rail Mount compressed natural gas (CNG) fuel system. With only five unique parts, the Type 3 Rail Mount is the lightest fuel system on the market, offering a similar operating experience to diesel trucks. It is designed to improve fuel economy and increase payload, reducing fleet total cost of ownership.
"Weight means something different for each fleet and for some, it can make or break profitability," said Wayne Powers, general manager of the alternative fuel systems business for Worthington Industries. "For others, it's a fuel economy factor. This system, built with input from truck OEMs, installers and fleet owners, achieves both objectives."
Worthington's Type 3 Rail Mount employs truck OEM factory-installed brackets to hold an aluminum cylinder, similar to the fit and finish of a diesel tank. It utilizes a Type 3 cylinder, which provides superior impact durability, protecting the driver and the company in the event of a side impact. Additionally, truck OEM factory-installed steps provide standard driver ingress and egress; and at 27 inches width off of the frame rail, the fuel system provides a similar width profile to diesel trucks, reducing the likelihood of clipping objects on turns.
The system makes its debut as seven units roll out of Worthington's Salt Lake City facility this month, headed to Arcadia, California to join a fleet of trucks operated by Food Express, Inc., a for-hire transportation company specializing in dry bulk food commodities. "In making the switch to CNG, we looked at many system offerings and were impressed by Worthington's new system," said Kevin Keeney, vice president of Food Express. "It's simple though robust, looks like a normal truck and delivers weight-savings while requiring less maintenance."
Engineered to be safe, efficient and reliable, Worthington's fuel systems are assembled in Salt Lake City, Utah with cylinders certified to NGV2 and FMVSS 304 and systems certified to NFPA 52 and CSA B109.
Visit worthingtonindustries.com/T3RM to learn more about the Company's newest fuel system innovation.
About Worthington Industries


Worthington Industries is a valued supplier to the global alternative fuels market with the largest onboard fuel cylinder offering in the world, including products for storage and transport of compressed natural gas (CNG), liquefied natural gas (LNG), autogas (LPG) and Hydrogen (H2).
Worthington Industries is a leading global diversified metals manufacturing company with 2017 fiscal year sales of $3.0 billion. Headquartered in Columbus, Ohio, Worthington is North America's premier value-added steel processor providing customers with wide ranging capabilities, products and services for a variety of markets including automotive, construction and agriculture; a global leader in manufacturing pressure cylinders for propane, refrigerant, and industrial gases and for cryogenic applications, water well tanks for commercial and residential uses, CNG and LNG storage, transportation and alternative fuel tanks, oil & gas equipment, and consumer products for camping, grilling, hand torch solutions and helium balloon kits; and a manufacturer of operator cabs for heavy mobile industrial equipment; laser welded blanks for light weighting applications; automotive racking solutions; and through joint ventures, complete ceiling grid solutions; automotive tooling and stampings; and steel framing for commercial construction. Worthington employs approximately 11,000 people and operates 85 facilities in 11 countries.