Twin Spindle Blast System features automated operation.
Press Release Summary: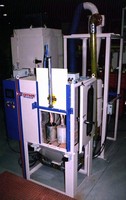 Measuring 42 x 30 x 75 in., twin spindle RSSA-6 blast cabinet employs 2 side-by-side spindles for pressure cleaning or surface preparation of IDs and ODs of cylindrical components. Each spindle is topped with mini-turntable fixture that secures component during processing, and 2 pressure-blast nozzles traverse vertically to provide thorough coverage of full part height. Programmed blasting routine is followed by automatic blow-off and media recharge cycles.
---
Original Press Release:

Twin Spindle Blast System



November 1, 2006 - Saratoga Springs, NY - Guyson Corporation has designed and built an automated pressure-blast system with two side-by-side spindles for blast cleaning or surface preparation of the inside and outside diameters of cylindrical components. The new machine is based on the company's workcell-sized Model RSSA-6 single spindle automatic.

Each of the twin spindles is topped with a mini-turntable fixture that secures the component during processing. Once the operator holds two photosensitive thumbswitches and closes the vertically sliding door to initiate the blast cycle, both components rotate at controlled speed while two pressure-blast nozzles traverse vertically to provide thorough coverage of the full height of the parts. The speed of spindle rotation, traverse stroke distance, traversing speed and the number of traversing strokes are adjusted for different components.

For I.D. surface preparation, an angled nozzle is fitted on a telescoping lance bracket. If the outside diameter of a part is to be blasted, a straight nozzle is fitted and the nozzle holder is clamped in position at the correct angle and distance from the target surface. In either mode of processing, the programmed blasting routine is followed by an automatic blow-off cycle to remove residual media and dust from the components.

The twin spindle RSSA-6 blast cabinet has a footprint 42 inches wide by 30 inches deep, and the machine stands 75 inches tall (191 cm H x 107 W x 76 D). A full-depth, interlocked side door allows access to the blast chamber for adjustments, inspection or maintenance. The interior of the blasting enclosure is illuminated by an adjustable floodlight.

Operator controls for the blast system are consolidated in a touch-screen panel on the front of the electrical enclosure that houses the machine's programmable logic controller (PLC). The panel combines text and graphics to streamline and simplify the human-machine interface, as it displays data such as nozzle traverse position and timed cycle countdown, as well as flashing fault indications such as a low media level.

The ASME certified pressure vessel for the two-nozzle blast machine has a capacity of 3.5 cubic feet, allowing sustained blasting for an extended blast cycle. The vessel automatically recharges with media at the end of the cycle after a low media level is detected by electronic sensors, so there is no interruption in media delivery.

Prospective users of automated spindle-blast systems are encouraged to submit sample components for free laboratory testing and application engineering evaluation at the machine builder's factory in northeastern New York State.

CONTACT FOR MORE DATA: J. C. Carson
518-587-7894
jccarson@guyson.com

More from Software