TVU Networks' Solutions Deployed to Enhance RTVE Coverage of Dakar Rally 2019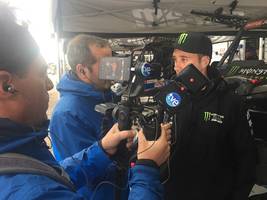 The high quality and reliability of TVU Nano Router and TVU Anywhere enabled RTVE to broadcast smartphone captured video live and full-screen in its coverage of Dakar Rally 2019
MOUNTAIN VIEW, CA – March 11, 2019 – TVU Networks, the global technology and innovation leader in live IP video solutions, today announces that the Spanish public broadcaster RTVE deployed TVU Nano Router and TVU Anywhere to contribute SDI video over wireless networks from the remote and difficult conditions of the Dakar Rally in Latin America live to the RTVE studio in Barcelona. The Dakar Rally is renowned off-road rally endurance race that has been going on for more than 40 years.
The IP streaming videos, which were aired live on RTVE flagship channels La 1 and Teledeporte, were shot on smartphones, transmitted over local mobile networks, and delivered as HD-SDI output feeds to RTVE's studio. It achieved this due to the ability of the TVU Anywhere app to aggregate mobile data from the smartphone and the compact TVU Nano Router, used as an additional hotspot enabled by three SIMs.
"Just getting video back from the incredibly hostile environment of the Latin American deserts where the Dakar Rally takes place is a big achievement. However, the combination of the TVU Anywhere mobile application and the TVU Nano Router provided such high-quality video coverage of the rally. This year the reliability, quality and low-latency of the TVU solution enabled us to go full-screen and live with HD SDI output from a smartphone,"said RTVE.
TVU Nano Router is designed to be the smallest possible hardware solution for the high-quality contribution of video over WiFi, Ethernet and cellular networks. TVU Anywhere is a powerful app for capturing and streaming live video from anywhere, delivering picture quality usually reserved for more expensive professional video equipment. TVU Anywhere also features remote pan-and-zoom allowing an operator in a studio to control the camera remotely without intervention from the user in the field.
"It's exciting that our incredibly compact solutions enabled RTVE to capture footage of the Dakar Rally on smartphone and air the video live and in full-screen for the first time on its flagship La 1 channel," said, David Jorba, Managing Director Europe, at TVU Networks. "It's our mission to increase the quality of live video and the scalability and mobility of the live streaming solutions, while stripping out complexity and reducing cost for our customers, independently of the way the content is captured and transported. The TVU Anywhere and TVU Nano Router solution certainly delivered this for RTVE and we look forward to our cutting-edge solutions continuing to make a difference for all broadcasters and operators producing live events."
About TVU Networks®
TVU Networks® is the global technology and innovation leader in IP-based live video solutions. TVU's solutions help transform broadcasters' SDI-based operations - which include acquisition, transmission, routing, distribution and management - to an IP-based infrastructure. TVU® serves customers of all sizes in more than 85 countries from industries that include news broadcast, web streaming, law enforcement, sports, corporate and government. In broadcast markets around the world including the USA, China and other major economic powers, TVU® is the dominant market leader with a large majority of all news broadcast stations using its IP video solutions. Using its proprietary IS+ technology, TVU's uplink solutions use any combination of cellular, satellite, microwave, WiFi and Ethernet IP connections to deliver live HD video from practically any location.
Related