Turntable Stretch Wrapper incorporates branding, roping solutions.
Press Release Summary: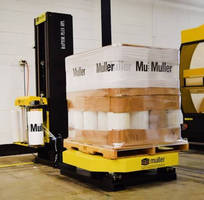 Used for wrapping pallets, high-profile Raptor™ HPL features elevated turntable platform, intuitive controls, and usability-optimized UI. Turntable contains lubrication-free power pre-stretch carriage with variable pre-stretch levels from 100%–300%. Able to wrap up to 35 loads/hr, this heavy-duty, semi-automatic machine incorporates Logo Wrap™ film, which promotes brand on pallet loads and reduces product tampering, and roping device that helps contain load by tying it to pallet.
---
Original Press Release:

Muller LCS Introduces Raptortm HPL High Profile Turntable Stretch Wrapper with Logo Wrap(TM) and Roping Device



—Intuitive design loaded with personalized features—



Glenview, IL – Muller LCS, a leading manufacturer of both innovative equipment and material load containment solutions, introduces an economical solution for wrapping pallets with its new Raptor™ HPL high profile turntable stretch wrapper. The Raptor HPL is an intuitive and reliable wrapper that has the additional benefits of having Muller's popular branding tool, Logo Wrap™, and a roping device built in. Logo Wrap, previously only available as an option for the Octopus line of ring stretch wrappers, will promote one's brand on pallet loads, reduce tampering of product with its one-of-a-kind film, shield product visibility and can be applied anywhere on the load. In addition, Logo Wrap minimalizes waste and labor typically involved with hand-applied stickers and labels and maintains its durability by withstanding the outdoor elements. The roping device feature further ensures greater load containment by tying the load to the pallet.



"The new Raptor HPL was designed to provide more personalization in our innovative wrapping solutions, while providing the same level of efficiency, simplicity and safety our customers have grown accustomed to in our Raptor semi-automatic and automatic stretch wrapper models," says Neil Weisensel, Brand & Marketing Director, Muller LCS.



The heavy-duty, semi-automatic machine, which can wrap up to 35 loads per hour, has an elevated turntable platform (ideal for high debris and harsh environments), intuitive controls and an easy-to-use interface. Furthermore, the patented strain gauge technology allows for electronic film feed and optimized handling on pallet load corners. The turntable also contains a lubrication free power pre-stretch carriage with variable pre-stretch levels from 100% to 300%, guaranteeing users optimal film usage while preventing film breaks and product damage.



"At Muller, our greatest asset is our customers, so we consistently strive to exceed their expectations," says Weisensel. "With the Raptor HPL making it easier for customers to identify, brand and protect their products, we believe we've done just that."



For more information on our new Raptor HPL, check out the video at:

www.youtube.com/watch?time_continue=8&v=l1nRbbeUec0



or visit us online at: www.mullerlcs.com/equipment/models/raptor.



For more information about Muller LCS, its products and services, visit: www.mullerlcs.com or contact directly at email: sales@mullerlcs.com, phone: 1-800-OCTOPUS (1-800-628-6787).



About Muller

Muller is a leading manufacturer of load containment solutions. Headquartered in Glenview, IL, the company provides a single source to properly secure pallets. Muller's highly regarded Octopus™ stretch wrapper line, along with other reliable equipment such as the Cobra™ and Raptor™, provide customers with a wide range of solutions. Muller products are sold around the world under the brands Yellow Jacket, Haloila, Mima, GaleWrap, Lachenmeier and Lock n' Pop- all brands are under the Signode Industrial Group (SIG).



Christina Eyuboglu

Vice President

Adduco Communications, Inc

M. 516.359.6375

Raleigh Office: 919.378.9777

Las Vegas Office: 702.434.0341

Email me at:

Christina@adducomm.com

or Christina.Eyuboglu@gmail.com

www.adducomm.com

More from Fasteners & Hardware