Turbocor® TG Series Compressors are equipped with intelligent controls.
Press Release Summary: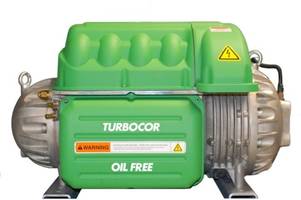 Turbocor® TG Series Compressor's TG230, TG390 and TG520 have 230 kW, 390kW and 520 kW nominal power capacity respectively. TG230MT is used in medium temperature applications with nominal input of 380V and is operated up to evaporating temperatures of -10°C. Compressors are designed for nominal mains input voltages ranging in 380 V to 575 V.
---
Original Press Release:
Danfoss Turbocor® TG Series Compressors Extended with Several New Models for Use with HFO-1234ze
Recent international exhibitions have demonstrated a large acceptance of R-1234ze as a standard refrigerant in large chillers. Following the success of the TG310 compressor — the pioneer centrifugal compressor for use with ultra-low GWP refrigerant, Danfoss releases four new TG series compressors.
Danfoss' Turbocor® TG series for low global warming potential refrigerants enables chiller manufacturers to build climate friendly and sustainable solutions that support refrigerant regulations for reducing the direct and indirect CO2 emissions such as the European F-Gas Regulation and the US Environmental Protection Agency's SNAP regulations.
Similar to the existing Turbocor® TT series compressors, the TG series compressors are oil-free, variable-speed, magnetic bearing centrifugal compressors. The compressors provide outstanding full- and part-load energy efficiency and feature a small footprint, light weight, low vibration, very low sound, intelligent controls, and soft starting characteristics. The cooling capacity is lowered by about 25 percent with an equivalent model using R-134a, but the energy efficiency is slightly increased.
The new compressor models TG230, TG390, and TG520 are designed for standard temperature air-conditioning applications.
TG230 – Delivers a nominal capacity of 230kW (65 tons) at water-cooled conditions and 175kW (50 tons) at air-cooled conditions. The TG230 compressor is available for nominal mains input voltages of 400V, 460V, and 575V.
TG390 – Intended for water-cooled chillers and delivers a nominal capacity of 390kW (110 tons). The TG390 is available for nominal mains input voltages of 380V, 400V, 460V, and 575V.
TG520 – Intended for water-cooled chillers and delivers a nominal capacity of 520kW (150 Tons). The TG520 is available for nominal mains input voltages of 380V, 400V, and 460V.
A new compressor model for medium temperature applications is also available.
TG230 MT – Available with the same range as the standard temperature version but with the capability to extend operation down to evaporating temperatures of -10 degrees C / +14 degrees F.
In addition to these models, the TG310 has been updated to include a new model for a nominal mains input voltage of 380V. The TG310 was previously only available as 400V and 460V models.
Danfoss takes a proactive approach to further the development and use of low-GWP refrigerants to help abate global warming and to ensure the competitiveness of the industry.
Danfoss Turbocor® TG compressors were an Honorable Mention in the 2017 AHR Expo Innovation Awards program, Green Building category.
Learn more at www.turbocor.danfoss.com.
Danfoss engineers technologies that enable the world of tomorrow to do more with less. We meet the growing need for infrastructure, food supply, energy efficiency and climate-friendly solutions. Our products and services are used in areas such as refrigeration, air conditioning, heating, motor control and mobile machinery. We are also active in the field of renewable energy as well as district heating infrastructure for cities and urban communities. Our innovative engineering dates back to 1933 and today Danfoss is a world-leader, employing more than 25,000 employees and serving customers in more than 100 countries. We are still privately held by the founding family. Read more about us at www.danfoss.com.
For more information:
Jennifer Anderson-Haney,
Marketing Communications Manager
Danfoss Engineers Technologies
11655 Crossroads Circle, 
Baltimore, MD 21220-2863 United States
850-879-1269
More from Packaging Products & Equipment