Tungsten Carbide Applicator extends life of tools up to 1000%.
Press Release Summary: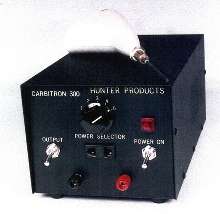 Carbitron 300 consists of adjustable power supply and vibration hand tool. Tungsten-Carbide deposition layer forms true metallic bond with work surface with hardness of 78-80 Rockwell C. Thickness of deposition layer is controlled by discharge intensity selector on power supply and may be varied from 0.0002 to 0.001 in. in increments of 0.0002 in. Process protects wear surfaces, and improves thermal-shock and impact resistance of surfaces.
---
Original Press Release:
"Diamond Dusting" of Micro-Electronic Tools, Surgical Instruments, and Micro-Laboratory Instruments
Improve and renew Micro-Electronic Tools, Surgical Instruments and Micro-Laboratory Instruments with the Hunter Carbitron 300. The developer of the technique for "DIAMOND DUSTING" medical instruments by manufacturers and on-site at hospitals. This simple easy-to-Use process applies tungsten-carbide to tools and wear surfaces extending the life up to 1000%. The Carbitron 300 system, consisting of an adjustable power supply and vibrating hand-tool is a heavy - duty unit incorporating the features of units selling for 5 - 10 times it's low price. Used for Tissue Forceps, Needle Holders, Micro Needle Holders, Micro Pliers etc. Literature and price list on request from:
Hunter Products Inc.
P.O. Box 6795
Bridgewater, NJ 08807
Toll Free: 800-524-0692
Fax: 908-526-8348
Website: www.hunterproducts.com
E-mail: sales@hunterproducts.com Contact: Phyllis Zelnick, Marketing