Material Processing Barrels and Drums
Tumbler enables processing of small parts.
Press Release Summary: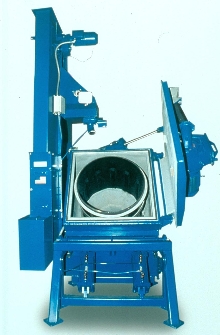 Barrel Blaster allows parts to tumble uniformly in abrasive blast for cleaning and surface preparation. It consists of one 13 in. dia, 8-bladed wheel unit, powered by one 15 hp, 3600 rpm, NEMA T-frame, direct mounted motor. Its 32 in. dia barrel is 37 in. deep, providing three cubic feet tumbling capacity for up to 600 lbs. Single slide gate and pneumatically operated butterfly valve allow for positive media flow control.
---
Original Press Release:

The Wheelabrator Barrel Blaster Enables Processing of Small Parts in Small Spaces


LaGrange, GA - (September 8, 2002) -The Wheelabrator® Barrel Blaster enables the processing of a wide variety of small parts that conventional machines cannot handle. With an easy to install, space saving design, the Barrel is ideal for contaminant removal, peening, surface finishing, and small nonferrous foundries (non-sand).

Because the Wheelabrator Barrel Blaster reduces pinch point problems, it allows smaller parts to tumble uniformly in the abrasive blast for optimum cleaning and surface preparation. It is well suited for parts that are too small for conventional endless rubber belt and metal flighted Tumblast(TM) style machines.

The Wheelabrator Barrel Blaster consists of one 13" diameter, 8 bladed wheel unit, powered by a 15 h.p., 3600 rpm, NEMA T-frame, direct mounted motor. The 32" diameter barrel is 37" deep, providing a 3 cubic feet tumbling capacity for up to 600 pounds. A single slide gate and pneumatically operated butterfly valve allow for positive media flow control. Options for the Wheelabrator Barrel Blaster include: PLC, variable speed wheel motor, lime adder assembly, dust collector (CFM required 2000) and cyclone separator.

The machine's compact design saves valuable floor space and permits easy installation. An overall height of 12' accommodates one piece shipping, so the Barrel Blaster is delivered ready to set in place. Requiring only a 7'2" x 11'9" footprint, it is re-wired for immediate connection to the user's power supply and ventilation.

From its safety blue color to the pneumatic locking lamp that secures the wheel door during a blasting cycle, the Barrel Blaster offers many protective systems, enhancing efficiency and effectiveness. Individual fuse blocks, starters and overloads for each motor prevent electrical problems. Features such as timed operation and a limit switch keep the machine from operating when the wheel door is open.

Founded in 1907, Wheelabrator is one of the most recognized names in the blast cleaning and surface preparation industries. An ISO 9001 Certified manufacturer, Wheelabrator designs and builds a full line of blast cleaning equipment and systems suitable for a variety of finishing requirements at their LaGrange, Georgia facility. Additionally, the company operates a foundry in Walterboro, South Carolina, which produces abrasive resistant castings.

USF Surface Preparation Group, a division of USFilter, is the global leader in providing surface preparation equipment, supplies and services. Strategically located manufacturing and distribution facilities allow USF Surface Preparation Group to provide unparalleled customer service and support worldwide. For more information on USF Surface Preparation Group and Wheelabrator, visit www.surfacepreparation.com or send an e-mail to info@usfspq.com.

United States Filter Corporation, a Vivendi Environnement company, is North America's largest water company providing comprehensive water and wastewater systems and services to commercial, industrial, municipal and residential customers. Vivendi Environnement (Paris Bourse: VIE and NYSE:VE), comprised of Vivendi Water (worldwide water products and services), Onyx (solid waste and industrial services), Dalkia (energy management), Connex (transportation and logistics) and FCC (Spanish company engaged in environmental and construction related industries), is the largest environmental services company in the world with more than 295,000 employees, including FCC, in about 100 countries and annual revenues of more than $25.6 billion. Visit the company's web sites at www.usfilter.com or vivendienvironnement-finance.com.

Wheelabrator is a registered trademark of Wheelabrator Technologies, Inc.
Tumblast is a trademark of the United States Filter Corporation or its affiliates.

More from Mechanical Power Transmission