Tubular Piezo Stack Actuators utilize multilayer technology.
Press Release Summary: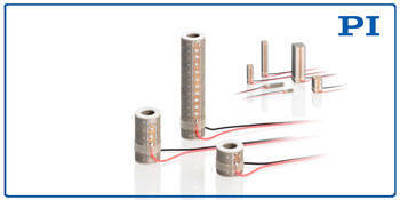 Based on solid-state motion effects and suited for precision motion tasks, PICMA® P-080 Tubular Piezo Stack Actuators come in displacement ranges of 5, 11, and 25 microns with up to 850 N blocking force. Units feature stiffness up to 145 N/µm, operating voltage range of -20 to 100 V, and operating temperature of -40 to 150°C. Ceramic encapsulated actuators are manufactured in cofiring process as monolithic blocks that can be combined to achieve longer displacement range.
---
Original Press Release:

PI Releases Tubular Piezo Stacks Based on Mars Rover-Tested Multilayer Technology



Auburn, MA -- PI (Physik Instrumente) L.P., a leading manufacturer of piezo systems and precision motion and positioning equipment, recently introduced the P-080 tubular piezo stack, the newest member of the high reliability PICMA® family of piezo actuators. Piezo actuators are based on solid-state motion effects and are used in applications that require any or all of the following attributes: high speed, high force, and virtually unlimited resolution.



Tubular Stacks vs. Piezo Tubes

Tubular stacks combine the advantages of stack actuators with the versatility of piezo tubes. Stacks are significantly more robust than tubes and provide much higher stiffness and forces as well as longer travel ranges. P-080 stacks come in displacement ranges of 5, 11 and 25 microns with up to 850N blocking force.



Video Animation

https://www.youtube.com/embed/OPwIKWSiwVU?rel=0 



Who's Sensitive?

Conventional, polymer-insulated piezo actuators are sensitive to environmental conditions, especially humidity and temperature. Based on a patented, ceramic-encapsulation process developed by PI's piezo division PI Ceramic, PICMA® multilayer piezo stack actuators are significantly more durable and reliable. PI's actuators are a manufactured in a cofiring process as monolithic blocks that can be combined to achieve longer displacement range.



Welcome to the Family

The P-080 joins a large family of piezo actuators including miniature chip actuators (2x2x2mm) and high-force actuators providing several 1000lbs of force. As a multilayer stack actuator, the through-hole of the P-080 is ideal for preloading or as aperture for optical applications. Microsecond response, sub-nanometer resolution and the low operating voltage, along with minimal power consumption while holding the position, make the P-080 ideal for many precision motion tasks in optics, semiconductors, photonics, and precision engineering applications.  



Proven Reliability on Mars Rover 100 billion successful cycles, no failure

Having passed extensive NASA performance qualifications and testing, PI's actuators are used in the sample analysis system of the CheMin instrument in the Mars rover Curiosity. "Quality awareness and careful process monitoring from powder to dispatch really do pay off", says Dr. Karl Spanner, CEO of PI, Karlsruhe, Germany. "We ourselves have been using the PI Ceramic PICMA® multilayer actuators for more than ten years in our piezo nanopositioning systems."



Read More About PICMA Actuators in Space and Industrial Applications

http://www.pi-usa.us/blog/reliable-piezo-motion-devices/



Specifications, Datasheet, More Information

http://www.pi-usa.us/products/PiezoActuators/index.php#P-080



Applications of PICMA Actuators

Applications range from semiconductor test & inspection to super-resolution microscopy, bio-nanotechnology, life sciences, and astronomy/aerospace technology.



Features & Advantages

Stiffness up to 145 N/µm

Travels range 5.5 µm to 25 µm

Operating voltage range -20 to 100 V

Operating temperature range -40 to 150 °C



About PI

PI is a leading manufacturer of precision motion control equipment, piezo motors, air bearing stages and hexapod parallel-kinematics for semiconductor applications, photonics, bio-nano-technology and medical engineering. PI has been developing and manufacturing standard & custom precision products with piezoceramic and electromagnetic drives for 4 decades. The company has been ISO 9001 certified since 1994 and provides innovative, high-quality solutions for OEM and research. PI is present worldwide with eleven subsidiaries, R&D / engineering on 3 continents and total staff of 800+.



USA / Canada

http://www.pi-usa.us

info@pi-usa.us



East / MidWest

(508) 832-3456

West / Canada / Mexico

(949) 679-9191

Silicon Valley / Bay Area

(408) 533-0973 Watch PI Videos on YouTube

https://www.youtube.com/user/nanopositioning



Follow PI on Twitter

http://twitter.com/PI_Physik_Inst



PI Blog

http://physik-instrumente.blogspot.com

More from Communication Systems & Equipment