Tubular Linear Motor offers integrated controller option.
Press Release Summary: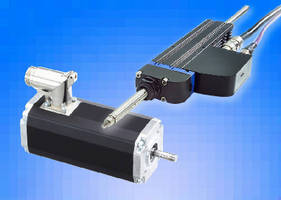 Suitable for motion control applications and replacing pneumatics in all-electric machines, Model ST11 with integrated controller features range of analog and digital I/O, with CAN, Profibus, and EtherCAT communications protocols available as standard. Once programmed, only power is required to operate in stand-alone mode, with programming completed using Drive Assistant™. Controller mounts with ST11 and maintains combined IP67 rating, but can also be positioned away from motor.
---
Original Press Release:

New Motors from Dunkermotoren at Drives & Controls



Precision motion control specialists Dunkermotoren will be exhibiting their range of rotary and tubular linear electric motors and associated products at the Drives & Control Show, Stand D32, Birmingham NEC, April 8th - 10th.



Of particular interest will be their new tubular linear motor the ST11 which features an integrated controller option that provides machine builders and designers with the benefits of easy integration, significantly reduced and simplified wiring.  It features a range of analogue and digital inputs and outputs, with CAN, Profibus and EtherCAT communications protocols available as standard.  Once programmed only power is required to operate in stand-alone mode, with programming completed using Dunkermotorens' own proven and established Drive Assistant™.



The new controller mounts easily with all models in the ST11 series and maintains a combined IP67 rating with the motor although can also be positioned away from the motor in the same way as a conventional controller.  This ensures optimum flexibility along with the advantages of a single-source of supply for all your motion and control needs.



Although ideally suited for use in a wide range of motion control applications, being faster than stepper motors with ballscrews and more precise than belt-drive systems, the ST11 with Integrated Controller is particularly ideal for replacing pneumatics in all-electric machines due to its efficient, low-maintenance and environmentally sound features.



Saving space, reducing overall design and assembly time whilst improving performance are familiar objectives for designers, so the new BG45SI brushless DC motors from Dunkermotoren also on display, will be of interest.



The length of the BG45x15SI has been reduced from 120mm to 88mm and the length of the more powerful BG45x30SI reduced from 135mm to 103mm, a reduction of 25% whilst maintaining the same power, torque capabilities and motor efficiencies.  These compact and integral sub-100 watt power units offer high power density combined with true 4-quadrant digital speed control.  The motor connector design has also been modified to ensure further space saving and convenience in mounting and connection.



With a 12 or 24 volt power source, at a nominal speed of 3000 rpm, the longer of the two units, the BC45x30SI is continuous duty rated for 80 watts power output.  Based on the improved design, however, the motors can achieve peak powers of four times the continuous duty rating and therefore, a starting torque of up to 100 Ncm is possible.



For more details on the ST11 Linear Motor and BG45SI Brushless DC motors contact:

sales.uk@ametek.com  or contact Peter Lawton on: +44 (0) 23807 33509

Dunkermotoren Linear Systems Ltd, Suite 2 Kingfisher House, Rownhams Lane, Southampton, SO52 9LP, U.K.



About Dunkermotoren:

Dunkermotoren is a world-leading designer and manufacturer of innovative DC, brushless DC and AC motors with a reputation for high quality, long-life motors. Global headquarters are located in Bonndorf, Germany with full assembly operations in the UK, USA, Serbia and China, along with sales offices around the world. In 2011 Dunkermotoren produced over 3.4 million motors for automation, medical, packaging, speciality machinery, semiconductor, solar power and mass transportation industry applications. In May 2012 Dunkermotoren was acquired by AMETEK, inc, a leading manufacturer of electronic instruments and electromechanical products, with annual sales in excess of $3 billion.

More from Communication Systems & Equipment