Tubeaxial Fan enhances electronics cooling and ventilation.
Press Release Summary: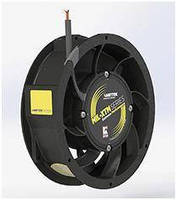 Delivering 300 cfm at 1.5 iwg (inches of water gauge), MIL-XTM Extreme Performance Series features shock-proof construction to Mil-S-901, immersion and wash-down capability, over voltage and reverse polarity protection, and locked rotor shutdown with automatic restart. Aerodynamics, motor, and DC drive contribute to ruggedness and reliability for mission- and personnel-critical duty. Operating at 7,500 rpm, fans deliver up to 42% efficiency.
---
Original Press Release:

Tubeaxial Fan Sets New Performance Standard for Electronics Cooling and Ventilation



AMETEK Rotron MIL-XTM has ruggedness and reliability for mission and personnel critical applications



AMETEK Rotron (www.rotron.com) has introduced a tubeaxial cooling and ventalation fan with the highest performance in the industry for its package size, the company reports. The MIL-XTM Extreme Performance Series fans deliver best-in-class 300 cfm at 1.5 iwg (inches of water gauge). This is a 24% increase in airflow over previous models with the same package configuration.



Applications include:

• Military and commercial electronics cooling

• Satellite/aviation  communications

• Telecom

• Heat exchangers

• Mobile environmental



With significant advances in aerodynamics, motor and DC drive, the new fan maintains ruggedness and reliability suitable for mission- and personnel-critical duty. For example, it can be used to cool electronic countermeasures mounted on armored vehicles to prevent detonation of improvised explosive devices (IEDs). Additional applications include commercial aircraft electronics, telecommunications, heat exchangers and crew ventilation.



Operating at 7500 RPM, the MIL-XTM delivers up to 42% efficiency, a significant increase over a typical tubeaxial fan efficiency of 27%.



Standard features include shock-proof construction (meeting Mil-S-901), immersion and wash-down capability, over voltage and reverse polarity protection and locked rotor shutdown with automatic restart.



AMETEK Rotron is a world leader in brushless DC motors, blowers and pumps for aerospace, military, mass-transit, medical and computer applications. It is a unit of AMETEK, Inc., a leading global manufacturer of electronic instruments and electromechanical devices with annual sales of more than US$3.5 billion.



Product Sales Contact:

Brazil

Mark Samways

AMETEK Aerospace & Defense

Tel: +55-12-9739-9978

Email mark.samways@ametek.com

www.ametekaerodefense.com



China

Jie Yang

Hongkong Everblooming International Co., Ltd.

Tel: +86-10-59432675

Email: 13701150594@139.com

www.bjdfht.com



India

Anantha Hanumaiah

AMETEK Instruments India Private, Ltd.

Tel: +91-80-6782-3259

Email: ananth.h@ametek.com



Singapore

Y. W. Leong

Tel: +65-6273-4573

Email: milaero1@pretech.com.sg

www.pretech.com.sg/index.htm



Republic of Korea

K. H. Choi

Haneun Industry Co., Ltd.

Tel: +82-2-558-2616

Email: choi@haneun-ind.com



Taiwan

Fu-Rong Yeh

Quaternion Cosmos Co., Ltd.

Tel: +886-2-2937-7625

Fax: +886-2-2936-9247

yeh.furong@msa.hinet.net

Related