Tube End Facing Tools suit pressure vessel fabrication.
Press Release Summary: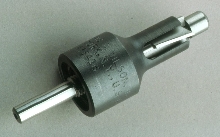 Two types of tools are available: Fixed-Type for 1/4 to 9/16 in. OD tubes, and Insert-Type for 5/8 to 2 in. OD tubes. Tools face brass, copper, steel, stainless steel, copper nickel, and titanium tubes. Cutter on fixed-type tool can be sharpened, and insert-type tool uses easy-to-replace cutter bits. Fabricators use tube facing tools to trim and face tubes before they are rolled, and re-tubers use tools to trim replacement tubes before or after they are expanded.
---
Original Press Release:

Tube Facing Tools Are Affordable, Durable and Multi-Functional


Long Island City, New York USA-By offering two types of Tube End Facing Tools Thomas C. Wilson, Inc. covers a wide range of tube diameters:

- 1/4 to 9/16-Inch OD Tubes: Fixed-Type Tube End Facing Tool

- 5/8 to 2-Inch OD Tubes: Insert-Type Tube End Facing Tool

The cutter on the Fixed-Type Tube End Facing Tool can be sharpened, and the Insert-Type Tube End Facing Tool uses easy-to-replace cutter bits, so both tools are affordable and economical. The Wilson Insert-Type Tube Facing Tool trims brass, copper, steel, stainless steel, cooper nickel and titanium tubes from 5/8-inch OD/15-22 gage to 2-inch OD/7-12 gage.

The newest member of the family of "Smart Tools" from Thomas C. Wilson, Inc., the Insert-Type Tube Facing Tool uses two types of cutter bits:
- Uncoated Cutter Bits install at a 7 deg cutting angle for facing brass, copper, steel and stainless steel tubes

- Coated Cutter Bits install at a 4 deg cutting angle and are used to trim cooper nickel and titanium tubes

The Wilson Insert-Type Tube End Facing Tool is also easy to order. Just specify the tube OD and tube material, and Thomas C. Wilson, Inc. includes the correct cutter bit. The Insert-Type Tube End Facing Tool also has an adjustable collar that ensures all tubes will be uniformly trimmed to the correct projection. The Wilson Insert-Type Tube End Facing Tool for 5/8 to 1-inch OD tubes comes with a 3/8-inch round shank. The tool for 1 1/4 and 2-inch OD tubes comes with a 1/2-inch round shank.

Both Wilson Tube End Facing Tools are designed for pressure vessel fabrication as well as boiler/heat exchanger/condenser re-tubing. Fabricators use the tools to trim and face tubes before they are rolled, and re-tubers use the tools to trim replacement tubes before or after they are expanded. Since the tube sheets of boilers and heat exchangers often warp during their lifetimes, replacement tubes are usually cut long and then trimmed after one end has been rolled. Thanks to its adjustable collar, the Insert-Type Tube Facing Tool produces a consistent tube end projection, regardless of how badly the tube sheet is warped.

Thomas C. Wilson, Inc. has manufactured tools for the fabrication, repair, cleaning and maintenance of pressure vessels for 70 years. Headquartered in Long Island City, New York, Wilson distributes its products through a global network of Authorized Distributors.

For information about the Wilson Fixed-Type Tube End Facing Tool or Insert-Type Tube End Facing Tool, as well as Wilson tube plugs, tube expanders, tube pullers, tube cutters, rolling motors, pneumatic tools, micrometers, and tube cleaning systems and accessories, or the name and telephone number of a local Authorized Wilson Distributor, contact Thomas C. Wilson, Inc. at:

Toll Free: 1-800-230-2636; Telephone: (718) 729-3360; Fax: (718) 361-2872; Internet: tcwilson.com; E-mail: smarttools@tcwilson.com

More from Test & Measurement