Try Out the Latest CRL Remote Handling Solutions from DE-STA-CO at SNMMI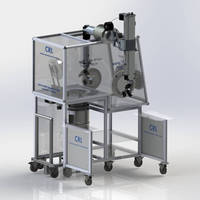 DE-STA-CO booth will feature unique isolator unit equipped with several containment solutions



Auburn Hills, Mich.  – DE-STA-CO will provide demos of several of its latest Central Research Laboratories (CRL) remote handling solutions using a single unique isolator unit at the upcoming SNMMI Annual Meeting. The SNMMI Annual Meeting takes place June 6-10 at the Baltimore Convention Center in Baltimore, Md., and attendees can find DE-STA-CO in booth #1110 on the trade show floor.



The DE-STA-CO demo unit's isolation chamber will be fitted with a CRL G-LDR telemanipulator, CleanRTP rapid transfer port and Push-Through Gloveport. A variety of CleanRTP beta containers constructed of stainless steel, polypropylene and medical grade plastics will also be on display in the booth to highlight the options available for nuclear material transfer.



"We've made it easy for SNMMI attendees to try out many of our most popular solutions at one station on the trade show floor," says Steve Chunglo, global business development manager, life sciences and nuclear for DE-STA-CO. "And if they can't find exactly what they need, our experienced product engineering team will work with them to build a custom containment solution."



Introduced last year, the G-LDR telemanipulator provides all the benefits of DE-STA-CO's proven line of CRL G-LD telemanipulators in a smaller package. It features 10 lbs. of capacity, telescoping operation and an ambidextrous handle, and can be retrofitted to any existing mount with a 4.76-inch (121 mm) diameter opening. The G-LDR telemanipulator's arm does not require any internal space above the mount opening, enabling users to reduce the internal height of the hot cell. This can help facilities reduce costs or create useable space for other equipment.



DE-STA-CO's CRL CleanRTP rapid transfer port is easier to operate and cleaner than other rapid transfer ports. It features a best-in-class range of options for maximum versatility. The CleanRTP interlock system, with its smooth polished release handle, mitigates the possibility of a glove breach due to a pinch in the interlocks, which improves operator and batch operational safety.



The CRL Push-Through Gloveport system from DE-STA-CO allows for rapid glove changes and minimized risk of operator or material exposure. It is an ideal companion for DE-STA-CO'S CRL Waste Drum Transfer System, which eliminates unnecessary contamination risks associated with traditional single-use plastic bag disposal. The Waste Drum Transfer System's fully automated internal port door opens to a waste drum that can be resealed and re-opened until it is full.



SNMMI Annual Meeting attendees can also learn about DE-STA-CO's increased European service and support efforts for all CRL products. This year, DE-STA-CO will dedicate highly trained CRL technical and sales support engineers for European customers to help meet increasing demand for CRL products. DE-STA-CO Europe and its distribution network will provide the full CRL product line directly to OEM partners and end-users.



To learn more about DE-STA-CO's line of CRL solutions, stop by DE-STA-CO booth #1110 at the SNMMI Annual Meeting, visit www.destaco.com/manipulation-transfer-equipment.html or call (651) 388-3565.



About DE-STA-CO



Celebrating 100 years of innovation in 2015, DE-STA-CO is a global automation and workholding company that provides productivity solutions to the manufacturing industry. Quality and service have helped DE-STA-CO evolve from a single stamping shop into a leader in the design and manufacture of cost-reducing, flexible products. With operations in the United States, Brazil, China, France, Germany, India, the Netherlands, Thailand and the United Kingdom, DE-STA-CO offers standard and custom solutions for industrial customers around the world. DE-STA-CO is part of the Engineered Systems segment of Dover Corporation, a multi-billion dollar diversified global manufacturer.



DE-STA-CO's Central Research Laboratories (CRL) line is based in Red Wing, Minn. CRL is a leader in the design and manufacture of manipulation, remote handling, and transfer equipment that allows human operators to safely perform dexterous maneuvers and product transfers in hazardous or sterile environments. CRL solutions are used around the world in nuclear, pharmaceutical, and bio-containment applications.