Trueface Facial Recognition and Spoof Detection Now Available on Ambarella Chipsets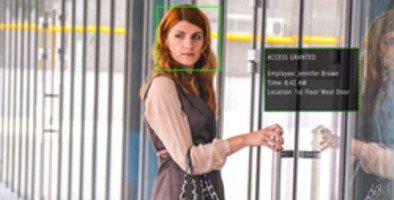 Trueface's facial recognition and spoof detection technology is now available on Ambarella's S5L IP camera system-on-chip (SoC) family creating more secure access control for homes and businesses.
LAS VEGAS (PRWEB) APRIL 11, 2019 - Trueface, a leading computer vision company, today showcased its facial recognition and spoof detection technology on Ambarella's S5L IP camera system-on-chip (SoC) family at the ISC West security show in Las Vegas.
The combined solution targets the home and enterprise monitoring markets for video doorbell cameras, smart locks, and professional access control systems. Trueface facial recognition and spoof detection allow camera manufacturers to offer access control capabilities in their Ambarella-based video security camera designs.
"With Trueface access control in an Ambarella-based IP camera, homeowners and office workers will be able to gain access to a locked door just by looking at the nearby camera — creating a safer environment around homes and workplaces," said Chris Day, Vice President of Marketing and Business Development for Ambarella. "We're excited to see Trueface showcase this solution during ISC West."
"We believe the combined solution of the Ambarella SoC and our computer vision technology will be extremely compelling for access control manufacturers, as their customers begin to demand technology that increases the security of their spaces," said Shaun Moore, CEO of Trueface.
Trueface's proprietary spoof detection technology ensures that bad actors who try to maliciously enter monitored premises are denied access, as printed or digital pictures of those trying to be impersonated are detected by the technology. Using facial recognition and spoof detection technologies for access control creates a superior security environment in homes, stores, and offices when compared to legacy keys, keycards, and badges which can be easily stolen, duplicated, or rendered futile via tailgating. Together with Ambarella, Trueface is creating a safer and smarter world for all.
About Trueface
Trueface is a leading developer of computer vision and facial recognition solutions. The company's technology is platform agnostic, capable of running on embedded chipsets, servers, desktops, and at the edge. Solutions include Facial Recognition, Spoof and Liveness Detection, Threat Detection, Age Verification and License Plate Recognition. Developed in the USA, Trueface has built its business with privacy and data compliance at its core. Through the responsible use of computer vision technology, we will all live in a safer and smarter world. For more information about Trueface, please visit http://www.trueface.ai.
Contact Information
Shaun Moore
Trueface
http://www.trueface.ai
+1 (628) 400-9108
Shaun Moore
Trueface
http://www.trueface.ai