Truckmount Carpet Cleaning Extractor holds water before needing dumping.
Press Release Summary: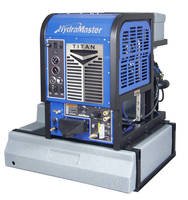 Dumpless, non-recirculating truckmount extraction system Titan 575 is designed to hold water for up to 40 min of inactivity before dumping, reducing need for refilling fresh water tank or emptying machine's recovery tank. Model is powered by 31 hp Daihatsu, liquid cooled engine. Features included are Tuthill TriLobe vacuum blower and General Emperor Series water pump, supplying up to 1,200 psi heated water for carpet cleaning and up to 2,000 psi non-heated water for pressure washing.
---
Original Press Release:

New 'Dumpless' Truckmount Extractor Introduced



Mukilteo, WA - October 19, 2009 - HydraMaster, a 40-year-old company and one of the carpet cleaning industry's leading manufacturers of truckmount carpet cleaning equipment and accessories, has just introduced the professional carpet cleaning industry's first "dumpless," non-recirculating truckmount extraction system.

Called the Titan 575, the new system is designed to hold water for up to 40 minutes of inactivity before "dumping" is needed.

This can be a major time saver for carpet cleaning technicians because it minimizes the need to refill the fresh water tank or empty the machine's recovery tank.

"Because [carpet cleaning] technicians charge by the job and not by the hour, this can also be a major cost savings," says Wayne Boone, HydraMaster's director of sales. "it is especially helpful now because of the economic downturn."

Truckmount extraction systems are considered the most effective way to deep-clean carpets. A truckmount system, such as the Titan 575, is a carpet extractor built-in or installed in a carpet cleaning technician's truck or van.

According to Boone, there are other non-recirculating truckmount systems available today, but "the downside of some of these systems is that they produce heat spikes that can cause streaking (dark staining) on carpets. This does not occur with the Titan 575's non-recirculating system."

Other features of the new machine include:

o A 31 hp Daihatsu, fuel efficient, liquid cooled engine

o Tuthill TriLobe vacuum blower

o General Emperor Series water pump, supplying up to 1,200 psi (pounds per square inch) heated water for carpet cleaning and up to 2,000 psi non-heated water for pressure washing.

"We had some definite engineering goals with this new system," adds Boone. "We wanted this machine to be a major step forward in [truckmount] extractor technology and better serve the needs of the carpet cleaning technician. From the industry's reaction, we have accomplished our goals."

About HydraMaster

HydraMaster is a multimillion-dollar corporation with 150 employees and 90 representatives worldwide. The company manufactures several truckmount systems, a wide variety of accessories for high-performance truckmounts, and specialized cleaning wands, including the powerful RX-20 HE.

Contact:

HydraMaster Headquarters

11015 47th Ave. West

Mukilteo, WA 98275

Toll Free: 1-800-426-4225

More from Sensors, Monitors & Transducers