Truck-Mount Power in a Portable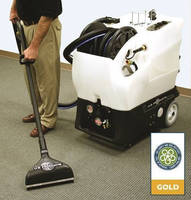 The King Cobra 1200 from U.S. Products is a portable extractor with power rivaling that of a truck-mounted carpet extractor. And it is actually two machines in one. For hard-floor surfaces, the King Cobra 1200 delivers 1,200 psi of pressure for cleaning grout and tile, and solution is vacuumed up and removed immediately along with soil and excess water. For carpet cleaning, the King Cobra 1200 delivers 150 psi and instant 212 degree F water at the wand tip.



For more information, visit www.usproducts.com or call toll-free: 800-257-7982.