Trubolt+® Wedge Anchor offers 360⁰ contact with concrete.
Press Release Summary: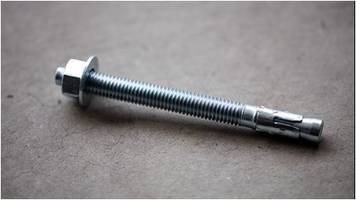 Featuring strudded body that can resist to high wind and seismic tension, Trubolt+® Wedge Anchor is designed for use in both cracked and un-cracked concrete and is suitable for concrete-based projects and is not bottom-bearing.
---
Original Press Release:
New Red Head® Trubolt+® Wedge Anchor Launched to Improve Concrete Anchoring
Maximum strength and ultimate flexibility make this wedge anchor best in class for heavy-duty concrete anchoring
ITW Red Head introduced the new Trubolt+ Wedge Anchor to the market, expanding upon the success of the original Trubolt Wedge Anchor. This updated version features a high-strength studded body that's built to resist both high wind and seismic tension. The Trubolt+ Wedge Anchor is also made for use in both cracked and un-cracked concrete.
This enhanced product is designed to have 360-degree contact with the concrete, which provides a strong hold, no matter what the application. Also, because the anchor is not bottom-bearing, the Trubolt+ is perfect for concrete-based projects.
"The Trubolt+ Wedge Anchor is reliable for any building project," said Mike Dill, Innovation Manager. "Its ability to be used in cracked, un-cracked, and seismic concrete conditions paired with its high strength in concrete makes it ideal for any heavy duty job."
Not only is Trubolt+ code compliant, but this wedge anchor also provides the most design flexibility of any anchor on the market. Trubolt+ can be placed closer to the edge of the concrete and closer to one another than other wedge anchors, making it more versatile in placement and project design.
The Trubolt+ Wedge Anchor is available at The Home Depot, Lowe's, and Menards, in-store and online, now.
About Red Head
As the company that invented concrete anchoring technology, Red Head holds a unique place in the history of construction and building. The Red Head brand has become synonymous with the anchoring product category it invented. From the self-drill anchor we invented in 1910, to our new Trubolt+ wedge anchor, we continue to innovate and lead the industry with labor saving, high quality and high performance solutions. To learn more about ITW Red Head, visit www.redheadanchoring.com for more information.
Related