TRU-Vu Hits a Hole-In-One With the "Holey Moley" Show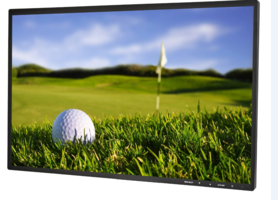 Another TRU-Vu monitor makes its way into the world of entertainment! A TRU-Vu 15.6" Sunlight Readable monitor is the head of the golf robot on the new ABC hit TV show, "Holey Moley". Hosted by Rob Riggle and NBA star Steph Curry, contestants battle each other for prize money. On one hole (Caddy Smack), golf contestants must choose either Steph Curry or The Robot to take their approach shot to get onto the green.
Creators of the show learned about TRU-Vu monitors being used on other TV shows (Chicago Med, Chicago PD), movies (The Hunger Games) and numerous sports telecasts. They wanted a very high-brightness video screen to look good on TV, as well as to be rugged enough which to sustain possible knocks, bumps and bruises along the way.
Photo credits: The Mercury News, ABC TV