Trouble Shooting Your Electric Motors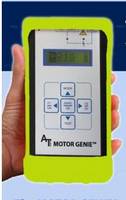 Safe: De-energized testing
Easy: As easy to use as any Meg-ohm-meter or multimeter
Light: One 1lb., hand-held
Batteries: They last for up to 10 hours of testing,
Best Value: For the price of a good Meg-ohm-meter and you get a quick return on your investment
The MOTOR GENIE® can see more than a Meg-Ohm-Meter Resistance or RCL Tester (see chart below)
STOP GUESSING & KNOW NOW!
Electrical Motor Testing
                               Ground faults                             internal Winding Faults               Open Connection             Contamination
MOTOR GENIE®          YES                                                  YES                                           YES                      YES
Meg-Ohm-Meter           YES                                                   NO                                             NO                        YES
VoIt/Ohm Meter             NO                                                     NO                                           YES                        NO
Pre-Purchase Now and get a Free Soft Pouch Carrying Case and Protective Glove! $140 Value!
For more information: www.alltestpro.com
About ALL-TEST Pro, LLC
ALL-TEST Pro, LLC (ATP) manufactures handheld, portable instruments for the testing of electric motors, generators, transformers and other coil-based devices. ATP's De-Energized testing (Motor Circuit Analysis-MCA™), Energized testing (Electrical Signature Analysis-ESA) and Power Quality Analysis instruments provide predictive maintenance testing, quality control and troubleshooting for a low initial investment and rapid ROI.
ALL-TEST Pro, LLC,
PO Box 1139,
Old Saybrook, CT 06475
Contact This Company Download Spec Sheet
More from Test & Measurement