Triple W Receives IHS Markit Innovation Award for DFree at International CES 2019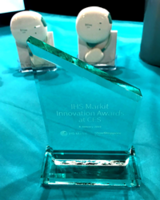 First Health Wearable Device for Urinary Incontinence Presented Honor at ShowStoppers CES Press Event
San Diego (PRWeb) January 24, 2019 -- Triple W, an innovator of connected health devices, today announced it won the IHS Markit Innovation Award in the "Fitness, Wearables and Health Devices" category for DFree®, the first health wearable device for urinary incontinence. The award was presented at the ShowStoppers Consumer Electronics Show (CES) press event on Tuesday, January 8, 2019, in Las Vegas.
The 2019 IHS Markit Innovation Awards competition showcased the most innovative technology products submitted by event exhibitors. Judges for the awards at CES 2019 included technology industry research analysts at IHS Markit and internationally recognized journalists. Winners were chosen in 11 different categories.
DFree uses ultrasound technology to monitor bladder fullness and notifies you on your smartphone or tablet when it's time to go to the bathroom. DFree helps to prevent accidental urinary leaks. Seniors and people with disability who need to manage a loss of bladder control now have an alternative to disposable diapers or pads and medications with the DFree health wearable device from Triple W. DFree stands for "diaper-free." According to the U.S. National Institutes of Health, urinary incontinence affects 500 million people worldwide.
"We're excited to have been chosen for this honor by IHS Markit tech industry analysts and respected journalists," said Atsushi Nakanishi, President and CEO for Triple W. "With DFree, people who need to manage the challenge of a loss of bladder control can confidently go about their daily activities knowing they'll have ample time to get to the bathroom on time."
About ShowStoppers
Now in its 25th year, ShowStoppers is the global leader in producing press and business events spanning the US, Europe and Asia. Each event organizes product introductions, sneak previews and demonstrations for selected journalists, bloggers, industry and financial analysts, venture capitalists and business executives. Industry leaders, innovators and startups exhibit to generate news coverage and product reviews, make new connections, promote brand and open new markets. ShowStoppers produces events at CES, Mobile World Congress and Mobile World Congress Americas, among others; the official press events at CE Week, IFA, and NAB; and partners with CES and CE Week.
ShowStoppers is a registered trademark of LLJ LLC. All other trademarks are acknowledged.
About IHS Markit (http://www.ihsmarkit.com)
IHS Markit Ltd. is a world leader in critical information, analytics and solutions for the major industries and markets that drive economies worldwide. The company delivers next-generation information, analytics and solutions to customers in business, finance and government, improving their operational efficiency and providing deep insights that lead to well-informed, confident decisions. IHS Markit has more than 50,000 business and government customers, including 80 percent of the Fortune Global 500 and the world's leading financial institutions. Headquartered in London, IHS Markit is committed to sustainable, profitable growth.
IHS Markit is a registered trademark of IHS Markit Ltd. and/or its affiliates. All other company and product names may be trademarks of their respective owners © 2019 IHS Markit Ltd. All rights reserved.
About Triple W
Triple W empowers people with incontinence to live without worries. Triple W believes that having control of your senses is the key to independence and living life to the fullest. The company was founded in 2015 and has offices in Tokyo, Paris and San Diego. DFree's award-winning and patented technology is currently used in over 500 senior care facilities in Japan, Europe and the U.S. since 2017. For more information visit: http://www.dfreeus.biz
Contact Information
Natalie Barreiro
Triple W
http://https://www.dfreeus.biz/
760-207-8269
More from Software