Triple Video Driver offers HD/SD filtering capability.
Press Release Summary: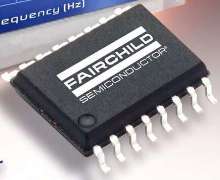 Selectable for High Definition (30 MHz) or Standard Definition (8 MHz) signal filtering, FMS6418A removes high-frequency noise prior to digitizing signal or artifacts introduced during D/A conversion in encoder for RGB or YUV signals. Video filter, available in 16-pin SOIC package, has triple 6th order filters and combines 2:1 multiplexer on each filter channel with filtering and output drive amplification on all 3 channels. It provides multiple video I/O standards on one chip.
---
Original Press Release:

Fairchild Semiconductor's New Triple Video Driver Offers HD/SD Filtering Capability and Multiple Video Input/Output Standards on a Single Chip: Replaces Multiple-Component, Discrete Solutions for Significant Board Space Savings


San Jose, Calif.-January 9, 2004- Fairchild Semiconductor (NYSE: FCS) announces the FMS6418A, a highly integrated, triple video driver that is selectable for High Definition (HD) or Standard Definition (SD) signal filtering. The FMS6418A is used to remove high frequency noise prior to digitizing the signal (anti-aliasing), or to remove artifacts introduced during D/A conversion in the encoder (reconstruction filtering) for either RGB or YUV signals. This unique product offers improved performance, flexibility, and lower parts count for advanced video applications, including HDTV monitors, cable and satellite set top boxes, DVD players, Personal Video Recorders (PVRs), Video on Demand (VoD), and audio/video receivers. The FMS6418A has triple 6th order filters with selectable 30 MHz (HD) or 8 MHz (SD) frequencies. It also offers -38 dB of stopband rejection at 74.25 MHz for HD and -55 dB at 27 MHz for SD applications. The FMS6418A provides performance exceeding that of competitive integrated devices, while offering cost and design advantages over discrete solutions that require multiple components.

The FMS6418A combines a 2:1 multiplexer on each filter channel, with filtering and output drive amplification on all three channels, to provide a complete video solution. All channels provide 6 dB gain, accept 1V ground referenced inputs, and drive AC coupled loads.

"The FMS6418A is a versatile video filtering solution that can be used in a myriad of applications. This integrated part offers our customers the ability to reduce cost in their consumer devices," said Jeremy Tole, Fairchild's technical marketing manager for video products. "The FMS6418A expands Fairchild's growing line of video products, further solidifying Fairchild as a leading provider of video filter drivers in the industry."

The FMS6418A video filter is available in a 16-pin SOIC package for additional space- and cost-savings. Demo boards are available to illustrate the product's full performance capabilities. This lead-free (Pb-free) product meets or exceeds the requirements of the joint IPC/JEDEC standard J-STD-020B and is compliant with the European Union requirements, which will take effect in 2005.

The FMS6418A adds to Fairchild's solutions for consumer applications such as set top boxes, DVD players, and HDTVs. These products include data converters, amplifiers, MOSFETs, optocouplers, regulators, LEDs, and LED drivers.

Price: FMS6418AM16 - US$ 0.84 and FMS6418AM16X - US$ 0.94 (both per 1K pcs). X indicates tape and reel.

Availability: Now

Delivery: 8 weeks for >100K quantities

For more information about this product go to fairchildsemi.com/pf/FM/FMS6418A.html < login.sendmetric.com/ct/ct.php?t=15408&c=9448263&m=m&type=1 >. For information on other Fairchild products, design tools, and sales contacts, please visit www.fairchildsemi.com < login.sendmetric.com/ct/ct.php?t=15409&c=9448263&m=m&type=1 >.

About Fairchild Semiconductor:

Fairchild Semiconductor (NYSE: FCS) is a leading global supplier of high performance products for multiple end markets. With a focus on developing leading edge power and interface solutions to enable the electronics of today and tomorrow, Fairchild's components are used in computing, communications, consumer, industrial and automotive applications. Fairchild's 10,000 employees design, manufacture and market power, analog & mixed signal, interface, logic, and optoelectronics products from its headquarters in South Portland, Maine, USA and numerous locations around the world. Please contact us on the web at www.fairchildsemi.com < login.sendmetric.com/ct/ct.php?t=15409&c=9448263&m=m&type=1 > .

Fairchild Contact:

Suzanne Bowser, Strategic MarCom Manager
Analog and Mixed Signals Group
(408) 822-2314 o Fax: (408) 822-2410
suzanne.bowser@fairchildsemi.com < mailto:suzanne.bowser@fairchildsemi.com >


More from Material Processing