Triple Triumph for MR Solutions with Third Queen's Award Win for Innovation in Pre-Clinical Imaging Technology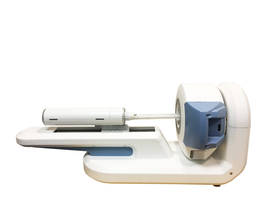 MR Solutions, of Guildford has achieved a third Queen's Award. This follows their win in 2016 with the Queen's Award for Enterprise (Innovation), while in 2017 the company was recognised for their excellent performance in International Trade. MR Solutions is a world leader in preclinical imaging solutions involving MRI, PET, SPECT, and CT.
This year's award was for their ground breaking PET technology. The advanced PET scanner can be used as standalone unit, clipped on the front of any MR Solutions MRI or CT scanner for sequential imaging or inserted inside the bore of the magnet on an MRI scanner for simultaneous imaging. Using the latest SiPM (silicon photomultipliers) technology the MR Solutions PET scanner is also more robust, requires only low operating voltage and very compact.
The combination of MRI which provides soft tissue imaging with PET which reveals metabolic changes in an organ or tissue at the cellular level provides researchers with a much more detailed image for quantification and translational studies. The improvements in imaging, combined with reductions in cost and physical footprint, has made their multi modular range of scanners the world leaders in pre-clinical imaging.
MR Solutions remains the only company in the world to have an installed base of cryogen free superconducting magnet, scanners which reduces the weight and size of the scanner from tons to a few hundred pounds and from a room to the size of a desk.
Dr David Taylor, physicist and Chairman of MR Solutions said, "Achieving our third Queen's Award win underlines our mission to be at the forefront of imaging technology. We work closely with the world's leading academic research laboratories and listen to their needs in pushing the boundaries to provide better imaging solutions."
MR Solutions has over 30 years' experience and in excess of 2000 installations across the world, including their state of the art MRI spectrometers. To support this large customer base MR has offices in the US and a highly trained network of global distributors.
MR Solutions has its headquarters at Ashbourne House, The Guildway, Old Portsmouth Road, Guildford, Surrey GU3 1LR; tel: + 44 1483 532146; information@mrsolutions.com; www.mrsolutions.com.
The Queen's awards are made annually by HM The Queen and are only given for the highest levels of excellence demonstrated in each category. Awards have been announced this year for outstanding business achievement in the fields of International Trade, Innovation, Sustainable Development and Promoting Opportunity. Winners of the Queen's Awards are invited to attend a special reception at Buckingham Palace later in the year.
Simon Vane Percy/Leonie Onslow
Vane Percy & Roberts
(T) 01737 821890
(M) 07710 005 910
(e) simon@vanepercy.com / leonie@vanepercy.com
Related