Triple Quadrupole GC-MS provides low femtogram sensitivity.
Press Release Summary: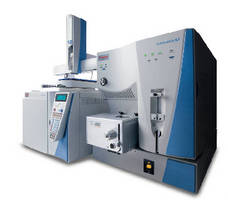 Featuring DuraBrite IRIS high sensitivity ion source, TSQ Quantum XLS can identify and analyze large number of compounds in single analytical run and is suited for trace residue laboratories. System's 90° collision cell virtually eliminates neutral noise background in chromatogram for amplified analysis of complex samples. Equipped with optional column backflush solutions, system enables high-throughput laboratories to run maximum QuEChERS extract samples for 24/7 routine operation.
---
Original Press Release:

Thermo Fisher Scientific Unveils New TSQ Quantum XLS Triple Quadrupole GC-MS with Durabrite IRIS High Sensitivity Ion Source



AUSTIN, Texas - Thermo Fisher Scientific Inc., the world leader in serving science, recently unveiled its new Thermo Scientific TSQ Quantum XLS at PITTCON® 2010. The new triple quadrupole gas chromatography mass spectrometry (GC-MS) system is designed to offer maximum precision, sensitivity and laboratory productivity for quantitative GC-MS analysis. It features the innovative Thermo Scientific DuraBrite IRIS high sensitivity ion source, which ensures high sensitivity in the low femtogram range, higher quantitative precision at trace levels and uninterrupted operation for increased productivity. Equipped with optional column backflush solutions, the new TSQ Quantum XLS enables high-throughput laboratories to run increased QuEChERS extract samples for 24/7 routine operation.

Highly inert and exchangeable ion volumes allow for quick preventive maintenance within minutes without venting the vacuum system. The system is the ideal instrument for trace residue laboratories in food safety and environmental, forensics, toxicology and petrochemical laboratories. The TSQ Quantum XLS provides low femtogram sensitivity for the most challenging trace analyses such as pesticides, PCBs, dioxins, PAHs, drugs and steroids in complex matrices, bolstering its leading position in performance and stability. "The new TSQ Quantum XLS delivers robust matrix selectivity, high sensitivity and precision for large samples series in response to increased customer demands." commented Hans-Joachim Huebschmann, GC-MS technology manager, Thermo Fisher Scientific.

The TSQ Quantum XLS is designed to improve laboratory efficiency and throughput by identifying and analyzing a very large number of compounds in a single analytical run. The new robust design of the Durabrite(TM) IRIS high sensitivity ion source delivers ion source inertness against the decomposition of labile compounds and provides higher ionization efficiency for low fg detection. The high-precision hyperbolic quadrupole rod analyzer allows for greater analytical flexibility, high-speed data acquisition and more sample runs, further increasing laboratory productivity. The unique 90-degree collision cell virtually eliminates neutral noise background in the chromatogram for amplified analysis of complex samples.

The easy-to-operate EZ-method of the TSQ Quantum XLS sets new standards for triple quadrupole GC-MS performance. All target compounds are individually monitored at the compound retention time by using the unique timed-SRM acquisition. Up to 3,000 selected reaction monitoring (SRM) scans can be time programmed in one chromatogram for the screening and precise quantitation of many hundred of compounds at optimum dwell times in a single analysis, making the most intricate analysis more manageable The increased mass resolution possible with the highly selective reaction monitoring (H-SRM) capability of the system enables correct peak area integration for higher quantitative precision, delivers lower LOQs and eliminates false positive results.

When operated in multiple reaction monitoring (MRM) mode, the TSQ Quantum XLS delivers low femtogram detection for outstanding performance in multiclass multi-residue target compound analysis in complex matrices. This level of sensitivity and selectivity, combined with quantitation-enhanced data-dependent MS/MS (QED-MS/MS) which provides simultaneous quantitation and structural confirmation, is designed to significantly increase laboratory productivity.

For pesticides analysis, the TSQ Quantum XLS is configured as a fully equipped pesticides analyzer for quick method setup in routine laboratories. The pesticide analyzer configuration is accompanied by the Pesticides Method Reference manual, with more than 600 pesticide compounds listed for immediate MRM analysis. The QuEChERS sample preparation method and a full GC-MS/MS setup procedure is delivered on CD for quick start-up into production.

Increased robustness with short analytical cycles is achieved by the proven backflush solution, keeping the injector and column free from high-boiling matrix compounds, otherwise requiring extended run times for bake-out and cleaning. Only the analytes of interest enter the analytical column, while a pre-column and injector is backflushed during the regular analysis run being cleaned for the next injection, ensuring shorter cycle times between sample injections.

The instrument utilizes the latest, most advanced version of Thermo Scientific QuanLab Forms chromatography analysis software package. The new QuanLab Forms 3.0 is an easy-to-use, focused, layered application software solution, offering improved acquisition, review and reporting features for increased productivity. The software features dual-reagent gas selection and plumbing capabilities to deliver stable and reproducible results. The TSQ Quantum XLS is also compatible with the EnviroLab Forms 3.0 and ToxLab Forms 3.0 software platforms.

For more information about the new Thermo Scientific TSQ Quantum XLS triple quadrupole GC-MS, please call 1-800-532-4752, e-mail analyze@thermo.com or visit http://www.thermo.com/getready.

Thermo Scientific is part of Thermo Fisher Scientific, the world leader in serving science.

About Thermo Fisher Scientific

Thermo Fisher Scientific Inc. (NYSE: TMO) is the world leader in serving science. Our mission is to enable our customers to make the world healthier, cleaner and safer. With revenues of more than $10 billion, we have approximately 35,000 employees and serve customers within pharmaceutical and biotech companies, hospitals and clinical diagnostic labs, universities, research institutions and government agencies, as well as in environmental and process control industries. We create value for our key stakeholders through two premier brands, Thermo Scientific and Fisher Scientific, which offer a unique combination of continuous technology development and the most convenient purchasing options. Our products and services help accelerate the pace of scientific discovery, and solve analytical challenges ranging from complex research to routine testing to field applications. Visit www.thermofisher.com

More from Communication Systems & Equipment