Triple-Plane Hybrid Line Laser delivers 360-degree coverage.
Press Release Summary: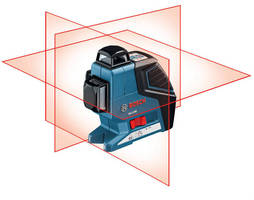 Utilizing Bosch patented Cone Mirror Technology, GLL3-80 delivers full 360° coverage on 2 perpendicular vertical planes and one horizontal plane. Provision of 5 cross points and self-leveling lines in 360° facilitates layout, leveling, and squaring processes. Combined with ability to project 3-axis planes simultaneously in all directions, functionality to switch between triple axis-plane, vertical-only, and horizontal-only modes lets user complete entire room from one setup point.
---
Original Press Release:

Bosch GLL3-80 360-Degree Line Laser Offers Full-Time Layout and Squaring Lines in Three Planes



New tool utilizes patented Bosch Cone Mirror technology to project in 360 degrees without moving parts!

Mount Prospect, Ill. - Building on the success of the revolutionary GLL2-80 360-degree line laser earlier this year, Bosch Measuring Tools introduces the GLL3-80 3-Plane Hybrid Line Laser. The new laser is nearly identical to the GLL2-80, except the GLL3-80 utilizes an additional laser diode to deliver full 360-degree coverage on two perpendicular vertical planes and one horizontal plane.

By providing five cross points and self-leveling lines in 360 degrees, the GLL3-80 makes layout, leveling and squaring a breeze for cabinet installers, finish carpenters, remodelers, electricians and others. Unlike traditional cross line lasers, the GLL3-80 allows the operator to position the unit over one reference mark and provide two 900 layout lines from one setup point. Because the GLL3-80 projects in all directions three axis planes simultaneously, and the tool can be quickly switched between triple axis-plane, vertical-only and horizontal-only modes, the user can complete an entire room from a single setup point.

Like the GLL2-80, the GLL3-80 utilizes Bosch patented Cone Mirror Technology, rather than rotating diodes, to project bright laser "chalk lines" in 360 degrees. By reducing the number of moving parts, Bosch produced a laser layout tool that is more compact, lighter, easier to calibrate, and simpler to use than a traditional rotary laser.

The GLL3-80 can be mounted in multiple ways for added versatility. The base of the unit is designed to enable either freestanding operation or magnetic attachment to metal tracking. The unit can also be mounted to a standard tripod; the base accommodates both ¼-20" and 5/8-11" tripod mounting. By incorporating the included WM1 Positioning Device with a micro-fine height adjustment, users can dial in their preferences even further.

For bright light conditions and/or long distance (up to 265 feet) applications, the GLL3-80 can be used in pulse laser receiver mode in conjunction with the optional LR2 laser receiver. Single-button operation and a compact design make setup, operation and storage simple, regardless of application. Bosch's Smart Pendulum Leveling System quickly levels the unit for use and alerts the user with both blinking lines and an audible alarm if an out-of-level situation occurs. Once leveled, the GLL3-80 is accurate to within 1/4" over its 100-foot range (in normal mode). A secure transport lock protects the pendulum when the unit is switched off.

As with all Bosch products for pro users, durability is important. In addition to the secure transport lock to protect the pendulum, Bosch has built the GLL3-80 to meet rigorous IP54 standards for water and dust protection. The easy-to-grip rubber housing further protects the GLL3-80 from jobsite drops and abuse. This ensures precise and reliable service over the lifespan of the tool.

The GLL3-80 comes complete with a hard carrying case, the WM1 micro-adjustable positioning bracket, an instruction manual and four AA batteries. The BP350 telescoping pole system for laser tools from Bosch Accessories is recommended for use with the GLL3-80.

The GLL3-80 will be available nationwide this fall. To find out more or to find a local dealer, users may visit www.boschtools.com or call 877-BOSCH-99.

About Bosch
The Bosch Group is a leading global supplier of technology and services. In the areas of automotive and industrial technology, consumer goods, and building technology, some 275,000 associates generated sales of $53 billion (38.2 billion euros) in fiscal 2009. The Bosch Group comprises Robert Bosch GmbH and its more than 300 subsidiaries and regional companies in over 60 countries. If its sales and service partners are included, then Bosch is repre¬sented in roughly 150 countries. This worldwide development, manufacturing, and sales network is the foundation for growth. Each year, Bosch spends more than $5 billion (3.5 billion euros) for research and development, and applies for some 3,800 patents worldwide. With all its products and services, Bosch enhances the quality of life by providing solutions which are both innovative and beneficial.

About Bosch in North America
In the U.S., Canada and Mexico, the Bosch Group manufactures and markets automotive original equipment and aftermarket products, industrial drives and control technology, power tools, security and communication systems, packaging technology, thermotechnology, household appliances, solar energy and healthcare products. Having established a regional presence in 1906, Bosch employs over 20,000 associates in more than 70 locations, with reported sales of $7.3 billion in fiscal 2009.

About Robert Bosch Tool Corporation
Robert Bosch Tool Corporation in North America, was formed in January 2003 when Robert Bosch GmbH combined its North American power tool, accessory and lawn and garden divisions into one organization. As a manufacturing pioneer with more than a century's worth of experience, the Bosch name has become synonymous with engineering excellence. The Robert Bosch Tool Corporation is a world leader in the design, manufacture and sale of power tools, rotary and oscillating tools, accessories, laser and optical leveling and range finding tools, and garden and watering equipment.

For more information about Bosch Power Tools & Accessories, call toll free 877-BOSCH-99 (877-267-2499) or visit www.boschtools.com

For more information about the Bosch Group, visit www.boschusa.com.

More from Architectural & Civil Engineering Products