TRINCEA Linear Drain Shower Bases feature single-slope to drain.
Press Release Summary: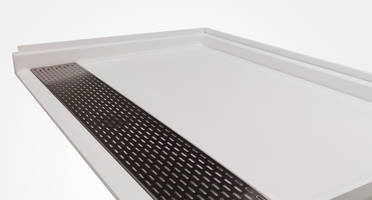 TRINCEA Linear Drain Shower Bases are suitable for use in multi-resident facilities, such as residence halls and military housing. Units are offered in both standard and custom sizes with variable drain placement. TRINCEA shower base allow for ADA configurations and are customizable to large projects. Units are certified by Home Innovation Research Labs and are offset or flush-to-wall.
---
Original Press Release:
Tower Industries Introduces New Line of Linear Drain Shower Bases
Meridian Solid Surface® TRINCEA Series Launches for Healthcare, Universities, and Military Housing.
Tower Industries, America's premier solid surface manufacturer, is excited to announce the TRINCEA line of shower bases for higher education, healthcare and military housing. Linear shower drains, also known as trench drains, are becoming an increasingly popular choice for both style and functionality.
"One of a shower's primary jobs is to keep water in the shower," stated Todd Werstler, President of Tower Industries. "With our TRINCEA line, you can direct the flow of water towards a single exit point to deliver the most effective removal of water." In addition to allowing for ADA configurations, the TRINCEA line is suited for multi-resident facilities, like residence halls and military housing.
TRINCEA showers come in both standard and custom sizes with variable drain placement available. Other benefits include:
Single-slope to drain
National Certification by Home Innovation Research Labs
Allows for ADA configurations
Offset or flush-to-wall configuration of drain
Customizable for large projects
Can be used with all Meridian Solid Surface wall panels and accessories
"Our new TRINCEA product line is the perfect blend of beauty, durability, and contemporary styling for any institutional project," said Peter Martin, Director of Administration, Marketing, and IT. "These bases are ready to be specified in any project immediately."
(About Tower Industries)
Tower Industries is the premier provider of solid surface solutions, including barrier-free showers, custom solid surface shower bases, shower wall panels, shower accessories and trim moldings, and custom conference tables. Tower Industries specializes in manufacturing custom solid surface products to your exacting specifications.
More from Materials