TricorBraun Speeds Filling Line for Food Processor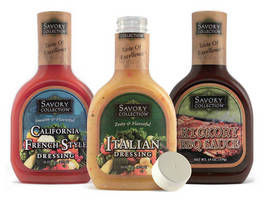 The filling line for Savory Collection Dressings and Marinades runs to a faster beat thanks to new banjo bottles sourced by TricorBraun, one of the world's largest suppliers of jars, bottles and rigid packaging. http://www.tricorbraun.com/tabId/620/itemId/159/TricorBraun-Speeds-Filling-Line-For-Food-Processor.aspx.

Private Label Foods, Inc. had been using a salad dressing bottle with poor weight distribution, a characteristic of old-technology manufacturing that resulted in crushed bottles and paneled shoulders. The consequence was a 25-percent filling line deficiency.

For the Rochester, N.Y. based company, TricorBraun sourced a more robust container with even wall distribution that was made on state-of-the-art equipment. The new 16-ounce, clear PET banjo bottle increased line efficiency and enhanced the company's profit margin.

Once the bottle had been sourced, TricorBraun supplied a polypropylene, continuous-thread, 38-490 closure that was both two grams lighter and less costly.

Embellishments include a paper label with a shrink neckband.

TricorBraun (www.tricorbraun.com) has more than 40 locations in the United States, Canada, Mexico and Asia. The company's primary focus is on packaging for personal care; cosmetics; healthcare; food and beverages; as well as industrial and household chemicals.

Private Label Foods was founded in 1988 with a barbeque sauce line that was cooked and bottled in the founder's home. Today, the company operates in a 125,000 square-foot processing center where it prepares: dressings, sauces, marinades and salsa.

More from Architectural & Civil Engineering Products