Triatek FMS1650 Dual Room Control from a Single Unit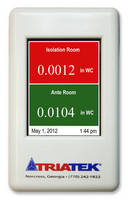 The ideal clean room / ante room solution

Norcross, GA. - Already overwhelmingly accepted as the industry's most advanced room controller, Triatek has expanded the capabilities of the FMS1650 by simultaneously displaying pressure in two spaces. The full color touchscreen allows operators to easily discern room state "at a glance" by connecting a single FMS1650 to two room pressure sensors. Once set up, operators are able to tightly control pressure in one room while controlling or monitoring a second making the FMS1650 controller perfect for scenarios such as a clean room / ante room applications.

All FMS1650s can also be used as a single room controller or monitor and are fully networkable to the most popular BAS including LON and BACnet. Accurate to within +/- 0.00125" WC, the FMS1650 can be ordered as a surface mounted or as a stainless steel flush mounted unit. Surface mount or flush mount, the FMS1650 provides installers with 4 analog and 4 digital inputs, 4 analog outputs and 4 relay outputs which allow for almost endless configuration possibilities with room for expansion. Furthermore, the full color touchscreen can be programmed to simultaneously display pressure, temperature, humidity, air changes and room state for any single space thereby making the FMS1650 the easiest controller to interpret on the market today.

Triatek is a world-wide leader in the designing and manufacturing of critical air flow and lighting controls that seamlessly integrate into Building Automation Systems. To learn more about the FMS1650, and other Triatek products, call 888-242-1922 or visit www.triatek.com.

About Triatek:
Founded in 1985, Triatek has provided the industry with forward thinking lighting and room controls including panels, displays, valves, sensors and more. Headquartered in Norcross, Georgia, Triatek supports its global install base of more than 4,000 customers from the corporate headquarters. For more information about Triatek or its products, please call 888-242-1922 or visit www.triatek.com.

More from Electrical Equipment & Systems