TRIACs achieve motor control at 150°C.
Press Release Summary: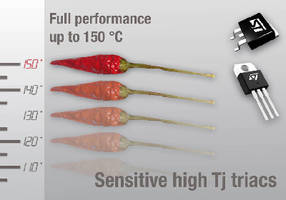 Specified for operation up to 150°C without derating, 4 A Model T410H, 6 A Model T610H, 8 A Model T810H, and 10 A Model T1010H feature low gate current of 10 mA, which allows direct logic-level switching. Units maintain specified minimal commutation and 75 V/µs noise immunity. Rated up to 600 V, TRIACs are suited for control of AC loads such as electric heaters, inductive heating equipment, medium-power motors, and other small appliances.
---
Original Press Release:

High-Temperature Sensitive TRIACs from STMicroelectronics are First to Achieve Motor Control at 150 degrees C



Performance breakthrough in TRIACs up to 10A unlocks savings by eliminating parts, shrinking heatsinks, and cutting power

Geneva, June 17, 2009 - STMicroelectronics (NYSE: STM), the market leader in thyristors and TRIACs, has introduced the first TRIACs with 10mA gate sensitivity to be specified for operation up to 150 degrees C without derating, enabling low-cost solutions for heaters, motors and other small appliances, through savings in heatsinks, and gate-drive power-supply and snubber circuitry.

The devices introduced are the T410H rated for maximum current of 4A, the 6A T610H, 8A T810H and 10A T1010H. Their low gate current of 10mA allows direct logic-level switching of the TRIAC, which saves component count and reduces the size and cost of the power supply. In addition, the low gate current maintains high dynamic performance, maintaining specified minimal commutation and 75V/microsecond noise immunity at up to 150 degrees C. This high maximum junction temperature (Tj) allows designers to reduce or remove heatsinks in cost-sensitive designs, increase power density, and enhance reliability at high ambient temperatures.

The new TRIACs are ideal for control of AC loads such as electric heaters, inductive heating equipment, medium-power motors, and other small appliances. At normal operating temperatures, they exceed the performance of similar devices specified for 125 degrees C maximum Tj. All devices are rated up to 600V, for reliable operation in mains-powered systems.

All devices are available in the industry-standard TO-220AB through-hole package, and the T810H and T1010H will also be introduced in the surface-mount D2PAK package.

The launch of these low-gate-current devices extends ST's introduction of HiTj TRIACs, which began in February 2008 with devices having gate sensitivities of 35mA and 50mA, and current ratings up to 20A.

The T410H, T610H, T810H and T1010H will be priced from $0.40 in quantities of 10,000 pieces, and are in volume production.

About STMicroelectronics

STMicroelectronics is a global leader in developing and delivering semiconductor solutions across the spectrum of microelectronics applications. An unrivalled combination of silicon and system expertise, manufacturing strength, Intellectual Property (IP) portfolio and strategic partners positions the Company at the forefront of System-on-Chip (SoC) technology and its products play a key role in enabling today's convergence markets. The Company's shares are traded on the New York Stock Exchange, on Euronext Paris and on the Milan Stock Exchange. In 2007, the Company's net revenues were $10 billion. Further information on ST can be found at www.st.com.

STMicroelectronics, Inc.

Lexington Corporate Center

10 Maguire Road

Bldg. 1, 3rd Floor

Lexington, MA 02421

(781) 861 2650

www.st.com

More from Agricultural & Farming Products