Triac Drive Optocouplers feature snubberless design.
Press Release Summary: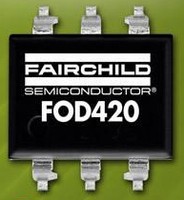 With built-in active dv/dt clamp that provides noise immunity (dv/dt) of 10,000 V/µs, random-phase FOD420 and FOD4208 facilitate solid state relay, AC motor control, and lighting ballast design. RoHS-compliant products provide 5,000 V of isolation while controlling power triacs that switch load. They utilize Pb-free terminals and can be used in conjunction with discrete power triacs.
---
Original Press Release:

Fairchild Semiconductor's Snubberless Triac Drive Optocouplers Simplify Solid State Relay, AC Motor Control and Lighting Ballast Designs



San Jose, California - May 6, 2008 - Fairchild Semiconductor (NYSE:FCS) provides designers with an easier way to design their motor control, power switch and lighting control applications with random-phase, snubberless triac drive optocouplers. These products, the FOD420 and FOD4208, feature a built-in active dv/dt clamp providing best-in-class noise immunity (dv/dt) of 10,000 V/µs, which is superior to the average dv/dt rating (1,500V/µs) of monolithic triacs. This superior performance eliminates the RC snubber network required for lower dv/dt rated monolithic opto triac drivers and saves valuable design time and bill of material (BOMs) costs. Their high noise immunity makes these products ideal for noisy industrial environments because they offer a more robust solution for isolating solid-state relays, AC motor controls and lighting ballasts.

Fairchild's triac drive optocouplers provide 5,000Volts of isolation while controlling the power triacs that switch the load. Therefore, these optocouplers can be used in conjunction with Fairchild's discrete power triacs such as the FKN08PN60S and the FKPF8N80. Both are part of Fairchild's comprehensive portfolio of optoelectronic solutions that offer a broad range of package platforms and various input and output configurations to address the challenges of general switching, AC load switching and many other applications.

The FOD420 and FOD4208 products utilize lead-free (Pb-free) terminals and have been characterized for moisture sensitivity in accordance with the Pb-free reflow requirements of the joint IPC/JEDEC standard J-STD-020. All of Fairchild's products are designed to meet the requirements of the European Union's Directive on the restriction of the use of certain substances (RoHS).

Price (each, 1000 pcs.): US $1.71 for the FOD420
US $1.89 for the FOD4208

Availability: samples available now
Delivery: 6 weeks ARO
Contact Information: To contact Fairchild Semiconductor about this product, please go to: www.fairchildsemi.com/cf/sales_contacts/.
For information on other products, design tools and sales contacts, please visit: www.fairchildsemi.com.
For datasheets in PDF format, please go to:
www.fairchildsemi.com/ds/FO/FOD420.pdf
www.fairchildsemi.com/ds/FO/FOD4208.pdf

To learn more contact:
Fairchild Semiconductor:
Louise Merriman
Corporate Marketing
1- (800) 341-0392 X 8761
Fax: (207) 775-8161
Email: louise.merriman@fairchildsemi.com

Agency Contact:
Topaz Partners
Paul R. Hughes
18 Commerce Way, Suite 700
Woburn, MA 01801
1-781-404-2416
Email: fairchild@topazpartners.com

About Fairchild Semiconductor:
Fairchild Semiconductor (NYSE: FCS) is a global leader delivering energy-efficient power analog and power discrete solutions. Fairchild is The Power Franchise®, providing leading-edge silicon and packaging technologies, manufacturing strength and system expertise for consumer, communications, industrial, portable, computing and automotive systems. An application-driven, solution-based semiconductor supplier, Fairchild provides online design tools and design centers worldwide as part of its comprehensive Global Power ResourceSM. Please contact us on the web at www.fairchildsemi.com.

More from Electronic Components & Devices