Trexel and Sorcole Continue to Expand their Longstanding Partnership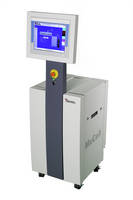 – Worldwide the first monosandwich injection molding machine with MuCell technology
(Wilmington, MA, (USA), November 2016) – The successful partnership between Sorcole and Trexel is being intensified in the area of visible foamed parts. From 2017, in a cooperation that includes Milacron, the first 2K-M monosandwich machine with MuCell technology will be installed with Sorcole and available for customer trials and samples.
A longstanding partnership drives ahead with innovative solutions for MuCell visible parts
"The successful cooperation between Sorcole and Trexel goes back many years. Recently both companies have been increasingly confronted by the challenges of producing aesthetically acceptable lightweight parts," comments Dr. Hartmut Traut, Trexel CEO and Business Director Europe. 2K monosandwich technology offers a process that is capable of producing high-quality lightweight parts with a skin of 1A material around a core of physically foamed material. The finished parts score with the benefits of both materials. Taking this approach means that the two components – the solid skin material and the foamed core – can be adapted independently and with no need to compromise for a specific application. The advantages of MuCell technology can thus be brought to bear on thin-walled lightweight parts with high surface specifications.
Interlocking know-how from three partners
Milacron is contributing the know-how from many years' experience with 2K and monosandwich technology to the partnership. Combining this know-how with Sorcole's expertise in lightweight design and moldmaking and Trexel's processing know-how, has created a competence cell for physically foamed lightweight monosandwich parts. This basic structure of the parts – a solid skin without blowing fluid and a physically foamed core – opens up new possibilities, for example, the foamed core can be made of recycled material with filler.
Practical relevance and testing options close to the actual products
The 800 t Milacron MuCell monosandwich machine will be available from 2017 for trials and samples. "Our cooperation offers a unique opportunity worldwide to test the monosandwich process and MuCell together in practical, real-life projects", points out Günter Brunner, Sorcole's CEO, "our customers no longer need to depend on theories and simulations; on the contrary they can now try out their designs in practice with a real product." For all three partners, this real life aspect was a central consideration. Sorcole has now installed three MuCell injection molding machines ranging in clamp force from 400 to 1300 t. The machines are fully operational and ready to run customer trials and projects.
More information at:
Press contact:
Dr. Hartmut Traut
Business Director Europe
Trexel GmbH
Tel.:      +49 2261 / 5492 - 140
email:   h.traut@trexel.com
About Trexel
Trexel is the sole developer of the MuCell® microcellular foaming technology and holds a comprehensive portfolio of patents in the USA, Europe and Asia. The Trexel business model includes the supply of MuCell® systems for production using the injection molding process. No licencing contract is required. Trexel also provides engineering support, including basic and advanced training. At the customer's request, Trexel will undertake to manage complete MuCell projects – from the selection of suitable parts to planning, sample production and series production. Customer service, including maintenance and spare parts is another business area.
Press contact:        
Günter Brunner
CEO
Sorcole GmbH
Tel.:      +49 (85 05) 91 98 79 - 0
email:   brunner@sorcole.com
About Sorcole
Sorcole GmbH processes thermoplastic materials to produce lightweight parts for a range of industries including automotive and commercial vehicle, sports products and home appliances industries. Sorcole products replace conventional injection molded components or even metal components.
Sorcole has extensive experience in foam injection molding processes that deliver substantial weight reductions compared with comparable conventionally manufactured parts made of solid plastic. Other Sorcole areas of competence include foam injection molded parts with outstanding surface quality together with high-strength, heavy-duty parts made of organic sheet. 
More from Sensors, Monitors & Transducers