Tray Former features modular design.
Press Release Summary: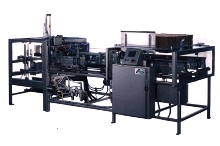 PF 129 utilizes Model M2A glue system, Allen Bradley's Micrologix 1500 programmable logic controller, and Total Control Products 5 in. touch screen. It produces finished trays in sizes that are produce-industry standard for tray length and width, but with ability to vary depth or design. Tray former includes UL approved control panels and Lexan guarding.
---
Original Press Release:
Moen's New PF 129 Tray Former Offers Modularity for Cost-Effective and Easy Changes to New Packaging Formats

...features the Fibre Box Association Common Footprint Standard

The new Moen PF 129 Tray Former is the newest in a family of Moen
Tray Formers that produce a wide variety of strong, laminated side wall trays for today and tomorrow's grocery industry needs. On display at Pack Expo International booth S-838, the Common Footprint Produce Tray Former features a design that is revolutionizing secondary packaging for the grocery industry by reducing product damage in shipment, labor in the store and encouraging increased sales through product visibility.

The basic Moen PF129 modular frame, PLC controls, belt drive and glue system provides the foundation for an infinite variety of tray designs. Standard features include the Moen model M2A glue system, Allen-Bradley's Micrologix 1500 programmable logic controller, Total Control Products 5" Touch Screen, UL Approved Control Panels, Lexan guarding, floor level loading, and much more.

Moen's newest modular tray formers produce finished trays in sizes that are produce-industry standard for tray length and width, but with the opportunity to vary depth or design. The dominant format for produce secondary packaging is the Bliss box, pioneered by Moen in the 1950's. In today's marketplace where there are so many designs, Moen identified the need for a platform that could be easily changed to accommodate the many possible variations. The resultant modular Tray Formers can offer a tray that is an attractive alternative to the Bliss box.

Moen Industries, headquartered in Santa Fe Springs, California, USA, manufactures a wide range of durable, high-quality Corrugated Packaging Equipment used in demanding production environments by major corporations worldwide.

For More Information:

Moen Industries

12333 East Los Nietos Road

Santa Fe Springs, CA 90670 USA

Tel: (562) 946-6381; Fax: (562) 946-3200

e-mail: sales@moenindustries.com

www.moenindustries.com
Related