Tray Cover provides infection control environment.
Press Release Summary: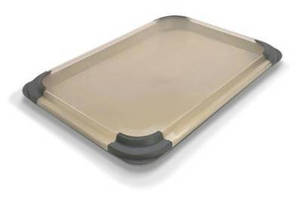 Compatible with company's Size B Flat and Size B Divided dental trays, DUX Dental Tray Cover with Secure Seal allows dental professionals to cover instruments when moving them to sterilization area, helping to create safe environment for practitioners and patients. Cover is transparent and will stay sealed if tray is accidentally dropped.
---
Original Press Release:

New Tray Lid With Secure Seal from DUX Dental Provides Infection Control Protection



OXNARD, Calif. -- DUX Dental today introduced a tray cover with secure seal to its line of office organization products to help oral care professionals create a safe environment for practitioners and patients. Utilizing a tray cover is critical to upholding infection control standards in the oral healthcare environment because it allows dental professionals and orthodontists to cover instruments when moving them to the sterilization area.



"I utilize a tray cover for all of my trays. The new DUX Dental tray lids have the added benefit of snapping into place. The secure seal allows me to transport the tray safely and securely from the operatory after patient care, which protects dental professionals and patients from any cross contamination or accidents," says Noel Brandon-Kelsch, Registered Dental Hygienist in Alternative Practice (RDHAP).



According to the Centers for Disease Control and Prevention (CDC) and the Occupational Safety & Health Administration (OSHA), it is required that trays be covered when being transported to the sterilization area in an office.



The DUX Dental Tray Cover with Secure Seal is compatible with the company's Size B Flat and Size B Divided dental trays and will stay sealed if accidentally dropped. The Tray Cover with Secure Seal is transparent and available for order at www.DUXDental.com under product number #31529 for the M.S.R.P. of $15.00.



DUX Dental Tray Products

DUX Dental provides a full line of organization trays to achieve a convenient and clean setup in the office. The Size B Flat tray is the most versatile and popular of the DUX Dental trays, allowing dental professionals to setup and organize their instruments in different ways. Size B Divided trays are designed for easier handling of instruments, and fits standard-sized head surfaces and cabinets from leading manufacturers. All trays and the tray lid can be sterilized in an autoclave.



The DUX Dental Size B trays are available in two styles and 12 different colors:

--  Size B Flat - product number varies by color - $11.50 M.S.R.P.

--  Size B Divided - product number varies by color - $12.55 M.S.R.P.



About DUX Dental

DUX Dental has been manufacturing and distributing the highest level of dental products worldwide for more than 50 years, and is now part of the Kerr Corporation. Based in the coastal city of Oxnard, Calif., with additional manufacturing and distribution facilities in Europe, DUX Dental is home to a world-class team of innovators who produce and service a portfolio of hundreds of dental products and supplies. DUX Dental is well known for its series of industry firsts including Zone Temporary Cement, Identicª Alginate and Bib-Eze disposable bib holders, as well as its award-winning PeelVue+ sterilization pouches. Visit www.duxdental.com or contact duxoffice@duxdental.com for more information about DUX Dental products.



Web Site: http://www.DUXDental.com

More from Machinery & Machining Tools