Transportable GC/MS System enables out-of-lab analysis.
Press Release Summary: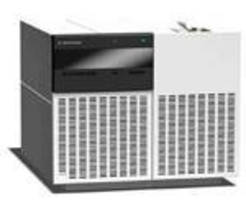 Featuring 1.8 to 1,050 micron mass range, 5975T Low Thermal Mass Gas Chromatography/Mass Spectrometry (GC/MS) Detector delivers laboratory-quality analysis. Proprietary LTM technology, wrapping GC column with heating element and temperature sensor, accelerates heating/cooling of column, while inert ion source allows for optimal performance with samples containing active compounds. With classical electron impact spectra, quadrupole technology delivers NIST searchable spectra of unknowns.
---
Original Press Release:

Agilent Technologies Introduces Transportable GC/MS for High-Performance, Out-of-Laboratory Analysis



ORLANDO, Fla., Pittcon 2010
Agilent Technologies Inc. (NYSE: A) today introduced the 5975T Low Thermal Mass (LTM) Gas Chromatography/Mass Spectrometry Detector (GC/MSD), the industry's first commercial transportable GC/MS system that delivers laboratory-quality analysis. Using proprietary LTM technology, Agilent has developed the 5975T LTM GC/MS to be smaller, more rugged and to consume less power than in-lab GC/MS instruments, yet capable of the same high-quality performance in the field.

Agilent's LTM technology eliminates the conventional GC oven by wrapping the GC column(s) with a heating element and temperature sensor. This provides rapid heating and cooling of the column for higher throughput. It also reduces power consumption by 46 percent, shrinks the footprint by 38 percent and reduces weight by 35 percent.

"Agilent's LTM technology will continue to enable faster and smarter GC and GC/MS systems in the future," said Jeff Li, Agilent general manager of Emerging Market Measurement Solutions, Chemical Analysis Group. "The 5975T LTM GC/MSD is an example of how to deliver laboratory-quality results in a compact, green package."

The 5975T LTM GC/MSD is particularly well-suited for chemical warfare analysis, first responders, and military and homeland security officials who need fast and highly accurate results in the field. Additional out-of-laboratory applications include food safety testing and environmental monitoring.

The 5975T LTM GC/MSD has several key features that enhance customer ease-of-use. The LTM technology allows customers to quickly change the LTM column module in the field, aiding in service and maintenance. The inert ion source allows for the highest performance with samples containing active compounds. A liquid auto-injector option is available, enabling calibration verification and semi-volatile organic compound analysis in the field. Additionally, with the classical electron impact (EI) spectra, quadrupole technology delivers National Institute of Standards and Technology (NIST) searchable spectra of unknowns. With a 1.8u to 1050u mass range, the 5975T LTM GC/MSD offers a wide range of applications.

For more information on the new Agilent 5975T LTM GC/MSD, please visit www.chem.agilent.com.

About Agilent Technologies
Agilent Technologies Inc. (NYSE: A) is the world's premier measurement company and a technology leader in communications, electronics, life sciences and chemical analysis. The company's 16,000 employees serve customers in more than 110 countries. Agilent had net revenues of $4.5 billion in fiscal 2009. Information about Agilent is available on the Web at www.agilent.com.

Contact:
Stuart Matlow
+1 408 553 7191
stuart_matlow@agilent.com

More from Chemicals & Gases