Transmitter-Receiver Chipset (5 W) accelerates wireless charging.
Press Release Summary: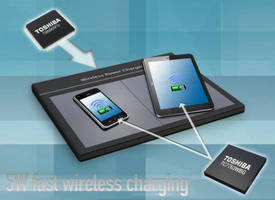 Wireless power chipset, comprising TB6865FG power transmitter and TC7763WBG receiver, enables up to 5 W transfer to accelerate mobile device charging. Integrated digital controller logic reduces component count and minimizes design complexity, while mixed-signal process with optimized MOSFET delivers performance that allows mobile device placement on battery charging pad. Transmitter comes in 14 x 14 mm LQFP-100, and receiver IC comes in 2.4 x 3.67 x 0.5 mm WCSP-28.
---
Original Press Release:

Toshiba Launches 5-Watt Chipset for Fast Wireless Charging



LAS VEGAS – Toshiba America Electronic Components, Inc. (TAEC)*, a committed leader that collaborates with technology companies to create breakthrough designs, today announces new enhancements to its TB6865FG power transmitter and TC7763WBG receiver chipset enabling wireless power transfer to more quickly charge mobile devices. The TAEC wireless power chipset now supports 5-watt power transfer; is compatible with the Qi low-power specifications version 1.1 defined by the Wireless Power Consortium (WPC), including rigorous Foreign Object Detection (FOD); and has integrated digital controller logic that reduces component count and minimizes design complexity.



"We are seeing a strong interest in wireless power technology for products like smartphones, game controllers, and other portable devices," says Deepak Mithani, senior director of the Mixed Signal Business Unit, System LSI Group at TAEC. "Besides the advantage of charging a device without the use of a cable, one interesting and emerging application is for mobile waterproof gadgets where a device is fully enclosed in its housing with no exposed connectors. Customers are demanding a quick way to charge their portable electronics and this chipset provides a convenient and effective way to satisfy their demand."



The TAEC wireless power chipset is built with the company's mixed-signal process with optimized MOSFET design that achieves high-performance allowing mobile device placement on the battery charging pad. The TC7763 realize a wireless power solution with a transmitter that consists of the TB6865FG transmitter. The TB6865FG integrates an MCU and can drive 4 external MOSFET H Bridges of 4 coils for a free positioning architecture supporting two mobile devices. The TC7763WBG receiver combines modulation and control circuitry with a rectifier power pickup, built-in Linear Dropout Regulator (LDO) and circuit protection functions. The transmitter IC is housed in a LQFP-100 14x14mm package and the receiver IC is supplied in a compact WCSP-28 2.4mm x 3.67mm x 0.5mm package.



The earlier TC7761WBG part has been awarded Qi certification at output power of 3.5-watt.



Availability

The TAEC power transmitter and receiver chipset, TB6865FG and TB7763WBG, is currently sampling. One piece sample price of the TB6865FG power transmitter is $7.00 and the TB7763WBG receiver is $3.50.



*About TAEC

Through proven commitment, lasting relationships and advanced, reliable electronic components, Toshiba enables its customers to create market-leading designs. Toshiba is the heartbeat within product breakthroughs from OEMs, ODMs, CMs, VARs, distributors and fabless chip companies worldwide. A committed electronic components leader, Toshiba designs and manufactures high-quality flash memory-based storage solutions, solid state drives (SSDs), hard disk drives (HDDs), solid state hybrid drives (SSHDs),discrete devices, advanced materials, medical tubes, custom SoCs/ASICs, imaging products, microcontrollers and wireless components that make possible today's leading smartphones, tablets, cameras, medical devices, automotive electronics, enterprise solutions and more.



Toshiba America Electronic Components, Inc. is an independent operating company owned by Toshiba America, Inc., a subsidiary of Toshiba Corporation, Japan's largest semiconductor manufacturer and the world's fifth largest semiconductor manufacturer (Gartner, 2012 Worldwide Semiconductor Revenue, April, 2013). Toshiba Corporation was founded in 1875 and today has over 554 subsidiaries and affiliates, with 210,000 employees worldwide. Visit Toshiba's web site at www.toshiba.co.jp/index.htm.



Information in this press release, including product pricing and specifications, content of services and contact information, is current and believed to be accurate on the date of the announcement, but is subject to change without prior notice. Technical and application information contained here is subject to the most recent applicable Toshiba product specifications. In developing designs, please ensure that Toshiba products are used within specified operating ranges as set forth in the most recent Toshiba product specifications and the information set forth in Toshiba's "Handling Guide for Semiconductor Devices," or "Toshiba Semiconductor Reliability Handbook." This information is available at http://www.toshiba.com/taec/support/techquestions/index.jspor from your TAEC representative.



AGENCY CONTACT:

Nancy Sheffield

Acclaim Communications

Tel.: (408) 410-9928

nsheffield@acclaimcomms.com



COMPANY CONTACT:

Deborah Chalmers

Toshiba America Electronic Components, Inc.

Tel.: (408) 526-2454

deborah.chalmers@taec.toshiba.com

More from Electrical Equipment & Systems