Transient Voltage Suppression Devices lend ESD protection to smartphones.
Press Release Summary: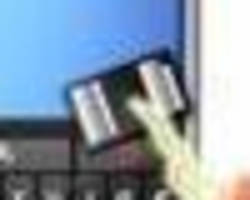 Manufactured on sub 65 nm technology and supplied in 1.0 x 0.6 x 0.4 mm package, uClamp2501T and uClamp2511T are 2.5 V single-line MicroClamp® transient voltage suppression (TVS) devices targeted at multimedia smart phones. They feature 10 nA leakage current and 2.5 V operating voltage. While unidirectional uClamp2501T is rated at 30pF, bidirectional uClamp2511T offers capacitance of 10pF max. Both are compliant to RoHS and WEEE standards.
---
Original Press Release:

Semtech Extends MicroClamp® Platform with Industry's First 2.5V Protection Devices



Company Grows Its Sub 5V Market Leadership with Single-Line uClamp2501T and uClamp2511T

Camarillo, California - October 22, 2009
Semtech Corp. (Nasdaq: SMTC), a leading supplier of analog and mixed-signal semiconductors, today announced the uClamp2501T and uClamp2511T, 2.5V single-line MicroClamp® transient voltage suppression (TVS) devices. These TVS devices are targeted at the one of the fastest growing mobile phone markets - multimedia smart phones with touchscreens, docking ports, memory slots and other interfaces that open the possibility of potential damage from ElectroStatic Discharge (ESD).

For performance, these phones rely on the latest generation of chipsets that operate on a working voltage of 2.5V or lower. Manufactured on sub 65nm technology, these chipsets are much more susceptible to ESD damage. The uClamp25x1T parts are ideal for these systems because they feature less than half of the turn-on voltage of a 5V part. This allows the ESD protection device to react much faster to transient events, thus reducing current flowing into the protected IC. Clamping voltage, a critical element in protecting sensitive ICs, is also minimized.

These parts bring to the MicroClamp platform Semtech's proprietary EPD process technology, an improvement over silicon avalanche diode processes that delivers low standoff voltages to reduce leakage current and capacitance. Semtech became the first company to debut a true 2.5V TVS when it launched the four-line, ultra-low capacitance RClamp2504N and RClamp2504P in May 2009.

The use of low voltage chipsets also helps these smartphones to have a longer battery life. With standard features including cameras, Internet browsing, email and texting in addition to voice communications, smartphone designers need to take advantage of every opportunity to extend the battery life, such as choosing parts with low leakage current like the uClamp25x1T devices, which feature a 10nA leakage current. Both TVS devices come in ultra small 1.0 x 0.6 x 0.4mm package to provide flexible protection anywhere it's needed.

The uClamp25x1T devices provide industry-standard protection from electrostatic discharge (ESD), lightning, electrical fast transients (EFT), and cable discharge events (CDE). The uClamp2501T is unidirectional and the uClamp2511T is bidirectional. The uClamp2511T offers a low capacitance of 10pF maximum, while the uClamp2501T is rated at 30pF.

"Portable-system designers that need to balance the increased battery life made possible by low voltage chipsets with the reliability that comes with high-quality protection now have a great option," said Rick Hansen, Semtech Marketing Director for Protection Products. "Providing the high-quality protection of the MicroClamp platform with both low-voltage and low leakage is a significant breakthrough."

While these products offer designers the benefit of significant board space savings, their small size and RoHS & WEEE compliance also contributes to energy conservation and hazardous waste reduction.

KEY FEATURES OF THE UCLAMP2501T AND UCLAMP2511T

Transient protection for data lines to IEC 61000-4-2 (ESD) ±15kV (air), ±8kV (contact), IEC 61000-4-4 (EFT) 40A (tp = 5/50ns) and Cable Discharge Events (CDE)

Ultra-small package (1.0 x 0.6 x 0.4mm)

Low leakage current: <10nA typical (VR=2.5V)

Low Operating voltage: 2.5V

Low capacitance: <10pF (uClamp2511T)

Low capacitance: <30pF (uClamp2501T)

Protects one data line

Semtech Proprietary low voltage technology

PRICING AND AVAILABILITY
The uClamp2511T (order code: uClamp2511T.TCT) is available immediately in production quantities and is priced at $0.24 each in 3,000-piece lots. The uClamp2501T (order code: uClamp2501T.TCT) is available immediately in production quantities and is priced at $0.19 each in 3,000-piece lots. Semtech offers comprehensive design assistance, including field- and factory-based support. Data sheets, volume pricing, and delivery quotes, as well as evaluation kits and samples, are available by contacting info@semtech.com.

ABOUT SEMTECH
Semtech Corporation is a leading supplier of analog and mixed-signal semiconductors for high-end consumer, computing, communications and industrial equipment. Products are designed to benefit the engineering community as well as the global community. The company is dedicated to reducing the impact it, and its products, have on the environment. Internal green programs seek to reduce waste through material and manufacturing control, use of green technology and designing for resource reduction. Publicly traded since 1967, Semtech is listed on the NASDAQ Global Select Market under the symbol SMTC. For more information, visit www.semtech.com.


More from Material Handling & Storage