Transhield, Inc. at Aviation Pros Live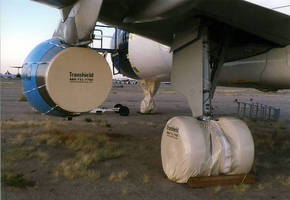 Transhield, Inc. is exhibiting at Aviation Pros Live in Booth No. 710 from March 25 – 26, 2014 at the Sands Expo Convention Center in Las Vegas, NV.  Transhield is a global supplier of custom fit covers, offering a patented alternative to conventional hand wrapping for shipping and storage protection. 



Transhield offers custom fit covers for new and out of service aircraft and aircraft parts such as engines, landing gears and other parts subject to damage during transportation and long and short term storage.  Covers are made from Shrinkable Fabric™ and consist of three layers: an outer layer that is UV-resistant and anti-condensation, a middle adhesive layer and a soft inner layer.  Easy to install and with the added ability to shrink, the covers allow for a tight fit to protect the product from dirt and water during shipping and storage and resulting in quality protection from the factory to the field.



Transhield's Shrinkable Fabric covers also feature the patented Adhesive Additive Delivery – Vapor Corrosion Inhibitor (AAD-VCI) system which provides 100% protection from corrosion during transportation and storage.



For more information, contact Transhield, Inc. 2932 Thorne Drive, Elkhart, IN 46154.  Phone: 574-266-4118 or 888-731-7700, Fax: 574-266-5220.  Website: www.transhield-usa.com, E-mail: general@transhield-usa.com. Also find Transhield on Facebook, Twitter and YouTube.







More from Software