Transformers measure and monitor ac currents.
Press Release Summary: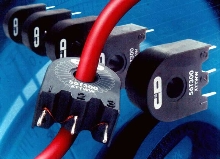 Combining isolation voltage of 500 Vdc and primary current rating of 10 A, 5600 range of current sensing transformers are available in 50, 100, 200, and 300 turn variants. Center tapped versions are available, reducing component count in full wave analysis configuration. Products have operating frequency range of 20-200 kHz, and, when used in switched mode power supplies, act as feedback elements between output and pulse control circuitry.
---
Original Press Release:

Transformer Series Designed to Measure and Monitor AC Currents


June 8th, 2005, Tucson, Arizona - C&D Technologies (NYSE: CHP) has introduced a new series of current sensing transformers designed to measure and monitor AC currents. Combining an isolation voltage of 500VDC and a primary current rating of 10A, the 5600 range is ideal for use in applications including switched mode power supplies, motor current load monitoring, lighting and instrumentation.

Available in 50, 100, 200 and 300 turn variants, the new transformers have an operating frequency range of 20kHz to 200kHz. Centre tapped versions of the 5600 series are also available, reducing component count in the full wave analysis configuration. Operating temperature range for the 5600 series is -40°C to +85°C and overall dimensions are 16.79mm x 20.19mm x 8.89mm.

When used in switched mode power supplies, the transformers act as feedback elements between the output and pulse control circuitry providing accurate regulation. Parts from the series have inductance values from 5mH to 335mH, while DC resistance values range from 117mΩ to 8.59Ω.

Available now, pricing for transformers from the 5600 series is under $1.00 in OEM quantities.

C&D Technologies, Inc. is a technology company that produces and markets systems for the conversion and storage of electrical power, including telecom/industrial batteries, rectifiers and electronics. This specialised focus has established the company as a leading and valued supplier of products in three major categories - reserve power systems, electronic power supplies and material handling systems. Corporate headquarters are in Blue Bell, Pennsylvania, USA and the company is traded on the NYSE under the symbol 'CHP'.

The Power Electronics Division of C&D Technologies, Inc. has its headquarters in Tucson, Arizona, USA, with manufacturing in USA, Mexico, UK and China and sales locations in USA, UK, France, Germany, China and Japan. The division designs, manufactures and distributes DC/DC converters, AC/DC power supplies and magnetics, and offers these products in custom, standard and modified-standard variations. These products, which are built to exacting requirements in ISO9000:2000-approved facilities, are typically used in telecommunications, industrial and other high-tech applications by Original Equipment Manufacturers (OEMs) to a variety of customers worldwide.

In 2004 the product portfolio and the global design and manufacturing capabilities of the Power Electronics Division were significantly enhanced as a result of three key acquisitions. In May 2004 C&D acquired UK-based Celab Limited, a designer and manufacturer of power conversion products for military, CATV and high-end telecommunications applications. In June 2004, the company acquired Datel, Inc., the US-based producer of a comprehensive portfolio of medium-power DC/DC conversion technologies, data acquisition products and digital panel meters. In September C&D completed the acquisition of Celestica Power Systems, the Canadian manufacturer of DC/DC and AC/DC power supplies.

C&D Technologies, Inc.,
3400 E. Britannia Drive, Suite 122, Tucson, Arizona, 85706
Tel: (800) 547-2537 Fax: (520) 295-4197
Product URL: www.cd4power.com
Corporate URL: www.cdtechno.com
e-mail: info@cd4power.com

More from Packaging Products & Equipment