Transformer has rated voltages range from 72-800 kV.
Press Release Summary: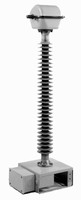 Suited for high voltage network applications, Magneto optical current transducer (MOCT-P) optical instrument transformer has free-standing sensor column that communicates with rack mounted electronic module, located in control house, by means of 200/230 multimode optical fibers. It features multiple analog 200 mV low voltage outputs, SF6 free design, and accurate reproduction of fault events. Unit can be used in transmission line, bus, transformer, breaker, or distribution schemes.
---
Original Press Release:

ABB Launches New MOCT-P Optical Instrument Transformer for Relaying High Voltage Network Applications



New high-voltage optical current sensor provides fast multiple outputs, accurate reproduction of fault events in environmentally-friendly design

Mount Pleasant, PA, August 13, 2008 - ABB, the leading power and automation technology company, today announced the launch of a new generation of magneto optical current transducer (MOCT-P) optical instrument transformers for relaying applications suitable for high voltage networks.

The rated voltages range from 72kV up to 800kV. Current sensing is based on the well-known magneto optical Faraday effect. The free-standing sensor column communicates with the rack mounted electronic module, located in the control house, by means of 200/230 multimode optical fibers. By this, the electronic module and relays are isolated from voltage surges.

The new product's primary benefits are the extremely-fast multiple analog 200mV low voltage outputs capable of interfacing with several commercially available microprocessor relays, and the environmentally friendly oil and SF6 free design. Its low weight enables high flexibility in mounting arrangements and eases handling on site.

An additional key feature is the highly accurate reproduction of fault events due to lack of any magnetic distortion effects common in conventional current transformers with iron cores. The high bandwidth of 10kHz adds opportunities in the area of power quality products. The MOCT-P optical instrument transformer was tested according to the latest and ANSI standards or electronic current transformers. The MOCT-P can be utilized in many applications such as in transmission line-, bus-, transformer-, breaker- or distribution schemes.

"This new product is a testimony of ABB's commitment to its advanced optical instrument transformer offerings," said Dr. Michael Mendik, manager, Optical Sensors and Systems (OSS) of ABB High Voltage products division. "This next-generation optical instrument transformer complements the existing portfolio for metering current and voltage transformers, the MOCT and combined Optical Metering Unit (OMU), which has been in service since the mid-1980's."

The optical instrument transformers MOCT-P are manufactured at ABB's high-voltage facility in Youngwood, Pennsylvania, USA.

About ABB

ABB (www.abb.com) is a leader in power and automation technologies that enable utility and industry customers to improve their performance while lowering environmental impact. The ABB Group of companies operates in around 100 countries and employs about 115,000 people. The company's North American operations, headquartered in Norwalk, Connecticut, employ about 12,000 people in 20 manufacturing and other major facilities.

More from Machinery & Machining Tools