Transformer Combination has space-saving design.
Press Release Summary: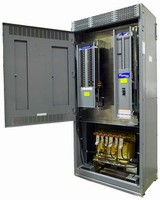 Within 24 in. deep x 42 in. wide, UL 891-listed enclosure, Square D® Integrated Power Center 2 (IPC2(TM)) Transformer Combo features panelboards and individually mounted circuit breakers or lighting contactors stacked above dry-type transformer rated 15-112.5 kVA. Factory-assembled, prewired solution can be installed in hours and includes hinged panelboard and equipment space access doors, hinged panelboard wire gutter access door, and power cables.
---
Original Press Release:
Square D® Integrated Power Center 2 (IPC2(TM)) Transformer Combo Reduces Installation and Labor Costs with Space-Saving Design
PALATINE, Ill. - Nov. 14, 2005 - With its space-saving design, the Square D® Integrated Power Center 2 (IPC2(TM)) Transformer Combo reduces installation time and labor risks. It is ideally suited for new and retrofit commercial, retail or industrial applications that have both 480Y/277V and 208Y/120V requirements. Installation takes mere hours instead of days because the IPC2 Transformer Combo integrates panelboards, individually mounted circuit breakers or lighting contactors with a dry-type transformer into one factory-assembled and prewired solution. This configuration saves valuable floor space because the panels are stacked above the transformer. "The Integrated Power Center 2 Transformer Combo is the first member of the IPC2 family of Integrated Equipment," said Craig Jones, Schneider Electric Marketing Manager. "An integrated solution reduces installation time and the associated labor costs. Depending on the application, labor savings of 15 to more than 20 hours can be realized." In a conventional installation, Jones said, multiple components must be received, handled, stored and installed, along with conduit, wire and fittings. The IPC2 Transformer Combo eliminates that, all in a footprint that measures 24 inches deep by 42 inches wide. That reduces electrical system space requirements by 50 percent or more over traditional "stick-built" options. Plus, the wall space above a transformer is no longer wasted. Reduced material handling is another key benefit of the IPC2 Transformer Combo. Because the components are factory-installed in one enclosure and the wiring between the internal components is done at the factory, there is no conduit, wire, fittings or associated installation labor. With fewer items that need to be received, inventoried and installed, real cost savings are achieved. Each section of the IPC2 Transformer Combo can be tailored to a facility's specific requirements. Options include: NQOD, I-Line®, NF and NF PowerLink® panelboards Dry-type transformers, single- and three-phase, rated 15kVA to 112.5kVA Individually mounted circuit breakers Lighting contactors Standard construction includes hinged panelboard and equipment space access doors along with a hinged panelboard wire gutter access door and factory-installed power cables, all in a UL 891-listed enclosure. The IPC2 Transformer Combo is suitable for use as a single-section solution or integrated into Square D Modular Panelboard Systems (MPS), Integrated Power Center (IPC) and QED switchboard lineups. The IPC2 Transformer Combo is designed and assembled with applicable National Electrical Code and UL requirements, and factory assembly ensures the highest quality standards are met. For more information about the Square D IPC2 Transformer Combo, call 1-800-868-9662 or visit us.squared.com/ipacs. Headquartered in Palatine, Ill., the North American Operating Division of Schneider Electric had sales of $2.6 billion (U.S.) in 2004. The North American Operating Division is one of four operating divisions of Schneider Electric, headquartered in Paris, France, and markets the Square D, Telemecanique and Merlin Gerin brand products to customers in the United States, Canada and Mexico. In the United States, Schneider Electric is best known by its flagship Square D brand, with Telemecanique becoming increasingly known in the industrial control and automation markets and supported by many Square D distributors. For 100 years, Square D has been a market-leading brand of electrical distribution and industrial control products, systems and services. Schneider Electric is a global electrical industry leader with 2004 sales of approximately $12.8 billion (U.S.). Visit Schneider Electric on the Internet at: Corporate - www.us.schneider-electric.com Telemecanique Products - www.us.telemecanique.com Square D Products - us.squared.com Merlin Gerin Products - us.merlingerin.com
More from Electrical Equipment & Systems