Transfer Conveyors come in 3 nose bar sizes.
Press Release Summary: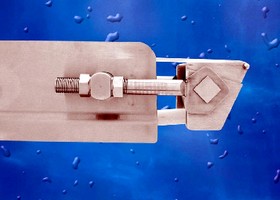 Targeting food, pharmaceutical, and personal care industries, Series 7600 allow for additional clearance around end of conveyor, making end accessible and creating room for other machinery. Providing tightest transfers, ½ in. nose bar is suited for daily wipe down cleanings. One inch nose bar performs in low-pressure wash downs and handles small product transfers. With largest diameter, 1 7/8 in. unit withstands 1,500 psi wash downs and is suited for meat and poultry applications.
---
Original Press Release:
Three Nose Bar Sizes for 7600 Conveyor Series
Set Tight Transfers in Motion HARTLAND, Wis., (Aug. 13, 2006) - The food, pharmaceutical and personal care industries will benefit from cleaner and more efficient transfers thanks to Dorner's addition to its 7600 series of conveyors. Dorner now has available three standard nose bar transfer sizes: 1/2-inch, 1-inch, and 1 7/8-inch. While traditional conveyors can transfer larger items with ease, a nose bar allows for a much smaller product transfer, which is often necessary within the food markets the 7600 series serves. Nose bars also allow for additional clearance around the end of the conveyor, making the end more accessible and creating room for other machinery. With the addition of a center drive option, both ends of the conveyor can be left completely open and accessible. The 1/2-inch nose bar is the smallest in the series and, as such, allows for some of the tightest transfers in the food industry. The basic design is ideally suited for daily wipe down cleanings, making the 1/2-inch nose bar perfect for small bakery, confectionery, personal care and pharmaceutical applications. The 1-inch nose bar is also ideal for smaller product transfers and is designed to perform in daily low-pressure wash downs. Suitable applications include the bakery, confectionery and snack food markets as well as personal care and pharmaceutical. The 1 7/8-inch nose bar is the largest of the three. With the largest diameter, it is perfect for meat and poultry applications. Its larger, robust components are easy to access and allow for quick wash down. Also, the 1 7/8 nose bar can withstand 1500 PSI daily wash downs. All of the Dorner 7600 Series nose bars are easy to assemble and disassemble, contain a limited number of parts and are ideal for any application that requires fast and effective cleaning. Additionally, the three nose bar transfer sizes are all standard options for the 7600 line. Dorner's prompt 10 day lead time still applies, providing the fastest turnaround in the industry. The 7600 line of conveyors debuted in July of 2006 as part of the AquaPruf brand. Together, the AquaPruf family of sanitary conveyors is designed to meet any food application in virtually any environment.