Pressure Sensors / Detectors / Transducers
Transducer includes DeviceNet communications.
Press Release Summary: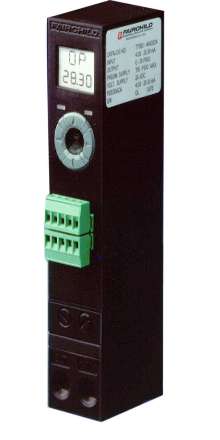 Series T7950 I/P, E/P Transducer incorporates closed-loop, microprocessor-based, electronic control system to regulate outlet pressure. Output ranges include 3-15, 3-27, 6-30, 0-30, 0-60, and 0-120 psig. Unit includes user-adjustable PID tuning coefficients, backlit LCD display, RFI/EMI protection, and flexible in-line bracket or DIN-rail mounting. DeviceNet allows connection of multiple devices on network and provides system and device level diagnostics.
---
Original Press Release:

Fairchild Industrial Products Company Has Added DeviceNet Communications to the T7950 Series I/P, E/P Transducer


Winston-Salem, NC -- Fairchild Industrial Products Company has added DeviceNet communications to the T7950 Series I/P, E/P transducer. This makes a powerful, flexible, cost effective combination that includes all the advantages and features of the T7950 I/P, E/P Transducer and utilizes DeviceNet communications capabilities.

The T7950 is a state-of-the-art transducer with advanced features such as:
o A closed loop, integrated microprocessor-based electronic control system that regulates outlet pressure
o Fully functional keypad and backlit liquid crystal display
o User adjustable PID tuning coefficients
o RFI/EMI protection
o Output ranges of 3-15, 3-27, 6-30, 0-30, 0-60, and 0-120psig
o No air consumption within deadband range
o Flexible in-line, Bracket or DIN Rail mounting
o High density manifold mounting.

DeviceNet is a low-cost communications link used to connect industrial devices including limit switches, valve manifolds, temperature transmitters, pressure transmitters and operator interfaces to a network.

The advantages of DeviceNet are:
o Low cost method of connecting multiple devices on a network
o Established protocol with wide span of vendor support
o Easy to install, use and maintain
o Reduces volume and cost of installation wiring
o Remote configuration and querying of individual devices
o Remove or replace devices without interrupting network power
o System and device level diagnostic capabilities.

When the T7950 is used with DeviceNet, the user will have an intelligent, full-function device that will be a cost effective addition to a control system network.

For more information, contact Fairchild Industrial Products Co., 3920 West Point Blvd., Winston-Salem, NC 27103 USA. Tel: (336) 659-3400 Fax: (336) 659-9323Email: sales@fairchildproducts.comWeb: www.fairchildproducts.com