Transceiver IC Evaluation Kit offers 2.5 kV galvanic isolation.
Press Release Summary: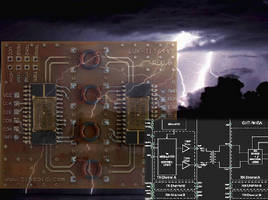 Incorporating 2 CHT-RHEA dual-channel, full duplex transceiver ICs and 4 tiny pulse transformers on 2 x 1.8 in. PCB, EVK-TIT6443 Evaluation Kit achieves data rate up to 2 Mbps with transmission delays lower than 100 ns over full chain. ICs come in ceramic packages guaranteed for -55 up to +225°C operation. Offering digital signal isolation, kit is suited for isolated gate drivers, IGBTs, and SiC switches, as well as isolation of industrial busses, A-D converters, and sensor interfaces.
---
Original Press Release:

RHEA Evaluation Kit, a High-Reliability 2Mb/s Isolated Transceiver up to 225°C Now Available from CISSOID



Mont-Saint-Guibert, Belgium - CISSOID, the leader in high-temperature and high reliability semiconductor solutions announces an Evaluation Kit for CHT-RHEA, the company's high-temperature and high-reliability isolated data transmission integrated circuit, guaranteed for reliable operation from -55°C to +225°C. The CHT-RHEA is a dual channel, full duplex transceiver (2 transmit and 2 receive channels). The Evaluation kit implements, on a small 2 x 1.8 inches PCB, two instances of CHT-RHEA (one for the primary side and one for the secondary side) together with 4 tiny pulse transformers. It achieves a galvanic isolation of 2.5kV, a data rate of up to 2Mb/s with transmission delays lower than 100ns over the full chain.

The solution offers state-of-the-art digital signal isolation and it will advantageously replace opto-couplers in applications involving extreme temperature conditions. CHT-RHEA is a versatile component which can be used anywhere there is a need to transmit a digital signal through a galvanic isolation barrier. At conventional temperatures, RHEA will ensure outstanding reliability and lifetime of the system compared to other existing solutions.

Applications include isolated gate drivers for power transistors, IGBTs and Silicon Carbide (SiC) switches, but also isolation of industrial busses, A-D converters and sensor interfaces.

The Evaluation Board is built from a 200°C polyimide PCB, and it is populated with two CHT-RHEA integrated circuits in ceramic packages guaranteed for -55°C up to +225C. The board supports short excursions to +200°C~225°C for testing. The Evaluation Kit includes the Evaluation Board, the complete electrical schematic, the Gerber files, the bill of materials and an Application Note.

The Evaluation Kit RHEA, referenced EVK- TIT6443 is available now, priced at $3,360. The integrated circuit CHT-RHEA is available now for sampling and evaluation. Pricing starts at $232.99/unit up to 200 units in CSOIC ceramic package. The circuit is also available in plastic SOIC package, for maximum temperature of 175°C, under the reference CMT-RHEA. For more information, visit www.cissoid.com or contact the company's representatives at www.cissoid.com/company/about-us/contacts.html.

About Cissoid - www.cissoid.com

CISSOID is the leader in high temperature semiconductor solutions, delivering standard products and custom solutions for power management, power conversion and signal conditioning in extreme temperature and harsh environments. CISSOID provides high reliability products guaranteed from -55°C to +225°C and commonly used outside that range, from cryogenic lows to upper extremes.

Whether the ambient temperature is low but the power dissipation heats up the chips, or in high temperature environments, CISSOID products enable energy, weight and cost savings in lighter, cooling-free and more compact electronic systems. They are used in mission-critical systems as well as in applications requiring long term reliability. CISSOID supplies leaders in the Oil&Gas, Aeronautics, Industrial and Automotive markets.


More from Mechanical Components and Assemblies