Tramp Oil Pump/Skimmer has off-shop-floor mounting option.
Press Release Summary: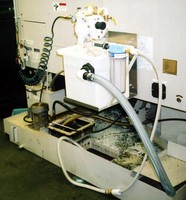 Mountable via frame with magnets, Keller TKO tramp oil pump/skimmer may be installed on side of machine tool without use of screws or brackets. Product features ½ in. air-operated pump, floating inlet device, and permanent oil separating (coalescing) element within its 14 x 14 in. footprint and may be run when machine tool is operating or idle. It sweeps tramp oil and floating chips from surface of sump while simultaneously circulating and aerating coolant in sump.
---
Original Press Release:

Frame Secured To Machine Tool By Magnets Takes Tramp Oil Pump/Skimmer Off Shop Floor



A new frame with magnets from Keller Products (Acton MA) permits mounting a Keller TKO tramp oil pump/skimmer off the floor on the side of a machine tool, without attaching screws or brackets to the machine tool. Although the TKO pump/skimmer when set on the floor next to the sump has only a 14"x14" footprint, shops with limited floor space who wish to keep aisles clear can now employ a standard TKO unit without sacrificing floor space and without any installation time. The recently introduced TKO pump/skimmer, with hundreds now in service, rapidly sweeps tramp oil and floating chips from the surface of the sump, while at the same time circulating and aerating the coolant in the sump. The rugged, high flow rate 1/2" air-operated pump pulls the mixture of tramp oil, chips, and coolant from the surface of the sump via a floating inlet device, through a filter to remove all solids, and then pumps the oil/coolant mixture through a Keller proprietary permanent oil separating (coalescing) element suspended in a separation tank. The tramp oil is split to the top of the separating tank, from which it can be drained by the operator simply by opening a drain valve periodically, and the cleaned coolant continuously returns to the sump. The TKO separator may be run when the machine tool is operating or is idle. The customer supplies only a 1/4" compressed air line; there are no electricals. The new magnet-installed frame now allows shops to utilize the TKO separator without any loss of floor space.

For additional information, contact:
Keller Products, Inc., Jonathan Strauss, Sales Manager, Tel 1-800-352-8422 e-mail: info@kellerproducts.net

More from Waste Management & Waste Handling Equipment