Tramp Metal Detectors offer job-tailored sensitivities.
Press Release Summary: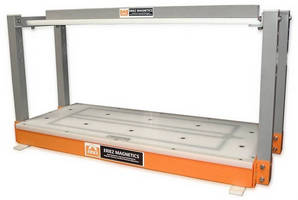 MPU-based Hawk and Eagle models of Metalarm MA3600 utilize pulse induction technology and are suited for installation in quarries, mines, and other locations. Hawk offers sensitivity to 20% of aperture height, while Eagle is used where high sensitivities are required - nominally 2% of aperture height. Self diagnostics and fault indication are standard on both models, which also offer local or remote on/off and trip counter.
---
Original Press Release:

Revolutionary Design Allows Enhanced Sensitivity in Metal Detection



Erie, Pa. - The innovative Eriez® Metalarm MA3600 Metal Detector, with pulse induction technology, provides balanced coil detection sensitivity and performance. There are two models available with the MA3600 Metal Detector; the Hawk and Eagle. Both of these models are suitable for installation in quarries, mines and other arduous locations, each having different sensitivity capabilities.

According to Eriez, the MA3600 outperforms all existing pulse induction detection systems. John Klinge, Product Manager, Metal Detection, explained, "We designed the MA3600 according to specific customer needs to ensure that even the smallest tramp metal will be detected." He added, "This unmatched protection for crushers, screens, pumps and conveyor belts saves time and improves productivity by reducing maintenance and downtime."

Both the Hawk and Eagle models are microprocessor-based with self diagnostics and fault indication. These standard features allow varied operating frequency to better suit different applications and sensitivities. The control has a twenty segment LED signal display and a dual channel for metal and belt clip signals with coarse and fine sensitivity control.

The Hawk Metalarm coil is typically utilized for standard applications with a sensitivity that is to 20 percent of the aperture height. The Hawk is designed for use on steel corded belts and can be operated with highly conductive products, such as iron ore, for more efficient protection.

The Eagle is used where high sensitivities are required, nominally 2 percent of the aperture height.

The Hawk and Eagle Metalarm Metal Detectors are easy to install and do not require that the customer cut their belt in order to mount either one on their conveyor.

The control unit is IP66 rated and can be supplied either with a painted steel or stainless steel enclosure with anti-condensation heater.

A wide variety of features including local or remote on/off, sensitivity control, healthy signal relay, trip counter, hile pile detector and various reject systems such as bag dropper and ink jet marker can be added.

Eriez is recognized as world authority in advanced technology for magnetic, vibratory and inspection applications. The company's magnetic lift and separation, metal detection, x-ray, materials feeding, screening, conveying and controlling equipment have application in the process, metalworking, packaging, recycling, mining, aggregate and textile industries. Eriez manufactures and markets these products through ten international facilities located on six continents. For more information, call toll-free (888) 300-ERIEZ (3743) within the U.S. and Canada. For online users, visit www.eriez.com or send e-mail to eriez@eriez.com. Eriez World Headquarters is located at 2200 Asbury Road, Erie, PA 16506.

More from Mechanical Power Transmission