Training Labs foster understanding of basic electronic theory.
Press Release Summary: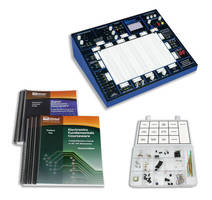 Electronics Trainer Labs come with Trainer, Electronics Fundamentals 2nd Edition Courseware (4 Books), Digital Electronics Courseware (2 Books), and Small Parts Kit. Specific models include PB-507 Advanced Analog & Digital Electronic Design Workstation, PB-505 electronics trainer for electronics instruction and design, and PB-503 for all levels of electronics instruction and prototyping. Also available, PB-503C consists of PB-503 mounted in heavy-duty, portable, aluminum carrying case.
---
Original Press Release:
Global Specialties Introduces New and Improved Electronics Trainer Labs
Yorba Linda, CA – Global Specialties today introduced New & Improved Electronics Trainer Labs which now include:
Trainer
Electronics Fundamentals 2nd Edition Courseware (4 Books)
Digital Electronics Courseware (2 Books)
Small Parts Kit

New Courseware

Small Parts Kit 1415 Power Supply
The new 2nd Edition of Electronics Fundamentals is a comprehensive course in analog electronics that combines classroom study and laboratory exercises. The 40-semester hour course integrates a student textbook with a lab manual whose experiments are written to reinforce valuable hands-on circuit breadboarding and testing techniques.

The course covers basic electronic theory and ends with the students having gained a firm knowledge of electronic principles from Ohms' Law through combinational circuits utilizing active and passive components. This is achieved by introducing theories in the text then allowing students to explore those theories through the use of experimentation. The complete program includes: Student Text (GSC-2301), Instructor's Guide (GSC-2302), Student Lab Manual (GSC-2311), Lab Manual Answer Key (GSC-2312), and Lab Kit (GSC-2311K).

The New GSC-2311KIT includes over 150 small parts including:
Transformers
Resistors
Triacs
Transistor
Tryristors
LEDs
Capacitors
Diodes

The New Trainer Labs:

Model PB-507LAB
The PB-507 Advanced Analog & Digital Electronic Design Workstation, is a powerful, versatile tool for circuit designers, engineers, technicians, students, and hobbyists. All digital controls, USB port, and a wide choice of built-in circuit accessories allow rapid and accurate construction of virtually any type of analog or digital circuit.
List Price $1,150.00

Model PB-505LAB
The PB-505 is a robust electronics trainer engineered for electronics instruction and design and is ideal for analog, digital, and microprocessor circuits. Students will learn valuable hands-on breadboarding techniques and build a solid foundation in circuit experimentation, construction, and analysis. The PB-505 can be used to construct basic series and parallel circuits or the most complicated multi-stage microcomputer circuits, incorporating new trends in industrial technology.
List Price $780.00

Model PB-503LAB
The PB-503 is our time-tested workhorse designed for all levels of electronics instruction and prototyping. Utilizing the PB-503, students can create and implement their own circuits onto the breadboard, which is removable for multiple student usage in lab settings. For both series and parallel circuits, the PB-503 can also handle much more sophisticated multi-stage microcomputer circuits. Multiple features in one complete test instrument can save hundreds of dollars necessary when purchasing individual units.
list price $695.00

Model PB-503CLAB
The PB-503C is the PB-503 mounted in a heavy-duty, portable, aluminum carrying case.
List Price $744.00

About Global Specialties
Since 1973, Global Specialties has been the recognized leader in innovative electronics training solutions for education and industry. Global Specialties' prototyping and trainer systems set the worldwide standard for reliability, durability and long life, designed to take the sustained use of educational, research and product testing environments. A leader in the development of integrated teaching systems, Global Specialties offers completely packaged courses including everything required for effective instruction. Global Specialties' products are available from electronics distributors worldwide.

Contact:
Geisa Mello
VP of Sales & Marketing
gmello@caltestelectronics.com
Related